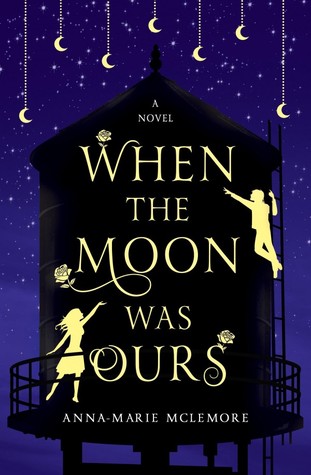 Publication Date:
October 4th 2016
Publisher:
St. Martin's Press

To everyone who knows them, best friends Miel and Sam are as strange as they are inseparable. Roses grow out of Miel's wrist, and rumors say that she spilled out of a water tower when she was five. Sam is known for the moons he paints and hangs in the trees, and for how little anyone knows about his life before he and his mother moved to town. But as odd as everyone considers Miel and Sam, even they stay away from the Bonner girls, four beautiful sisters rumored to be witches. Now they want the roses that grow from Miel's skin, convinced that their scent can make anyone fall in love. And they're willing to use every secret Miel has fought to protect to make sure she gives them up.
Review:
*I was provided a copy by the publisher via NetGalley in exchange for an honest review
When I first started this book I didn't know a lot about it. The only thing I really knew was that it was a magical realism book and I really like magical realism but don't read as much as I would like too. But here's the thing, while I enjoyed this book it still took me 3 months to finish it and I almost DNFed it. There were a few reasons why but let me just tell this is still a beautiful book and I still really like the story.
I don't want to talk a lot about this book because I think this is one of those books you should go without knowing a lot about but let me just tell that it had such an interesting story with so many twists and turns. I also really liked the characters and how they all had flaws. No one was perfect one this book. Even the characters who might have looked perfect weren't and I loved it because while a lot of books show characters as being flawless that is far from reality. My favorite aspect from this book was Miel and Sam's relationship. It was just beautiful. Actually everything about them was beautiful. I just loved to see the way they loved each other, understood each other and especially respected each other and their choices. I also loved that it's was not something that happened overnight because when the book started they already knew each other and were best friends for years.
Now here's the thing. If you are on Twitter you know about all the diversity debate that has been going on for a long time. For me it's important to have diverse books and this is one of those books that shows how it should be done because one thing is true, some diverse books don't have a good representation. I'm not telling if this book has a good representation or not because these are topics I'm not used to but I really enjoyed this one and in When the Moon was Ours not only we had a Pakistani character but we also had a Pakistani character that was a transgender boy. I'm going to be honest, I don't know a lot about Pakistani culture and heritage but those were one of my favorite parts of this book. I loved to learn about it. Another of my favorite parts was to see Sam struggling with his identity and coming to the terms of who he is because it's important to show that. I just loved it and that's why Sam was my favorite character. Also, he was so beautifully written that it was impossible not to love him.
By reading what I said you would think I would have loved this book right?? I did but I didn't for one reason and that's the reason why it took me three months to finish this book: the writing. Let me just start by saying that Anna-Marie McLemore writing is beautiful. It's one of those thoughtful writings with a lot of meaning and metaphors. However, that was my problem. Her writing style made the book flow a lot slower that what I'm used too and sometimes I would find myself bored with it. I just like to read books that flow in a complete different way but that's my problem and not a problem with the book. Her writing style is just something that normally doesn't captivate me. Nevertheless, it's still a beautifully written book and Anna-Marie McLemore is an amazing writer.
Overall, When the Moon was Ours was a different read for me. It dealt with a lot of things I'm not used to read about and it had a writing style I'm not used to but it was still a beautiful book. I just think I would have loved it more if I liked the writing style more. However, if you think you would like it you should give this one a try because this is a story that shouldn't be missed.
Rating:
Have you read this book? If so, what did you think about it? If you haven't read it would you read it?