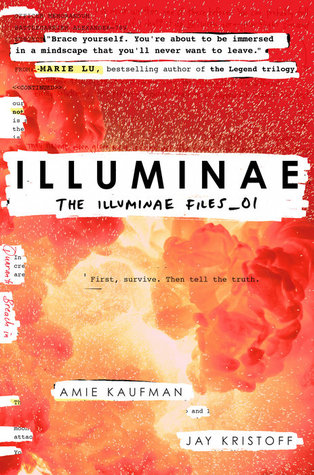 Publication Date:
October 20th, 2015
Publisher:
Knopf Books for Young Readers
This morning, Kady thought breaking up with Ezra was the hardest thing she'd have to do.
This afternoon, her planet was invaded.
The year is 2575, and two rival megacorporations are at war over a planet that's little more than an ice-covered speck at the edge of the universe. Too bad nobody thought to warn the people living on it. With enemy fire raining down on them, Kady and Ezra—who are barely even talking to each other—are forced to fight their way onto an evacuating fleet, with an enemy warship in hot pursuit.
But their problems are just getting started. A deadly plague has broken out and is mutating, with terrifying results; the fleet's AI, which should be protecting them, may actually be their enemy; and nobody in charge will say what's really going on. As Kady hacks into a tangled web of data to find the truth, it's clear only one person can help her bring it all to light: the ex-boyfriend she swore she'd never speak to again.
Told through a fascinating dossier of hacked documents—including emails, schematics, military files, IMs, medical reports, interviews, and more—Illuminae is the first book in a heart-stopping, high-octane trilogy about lives interrupted, the price of truth, and the courage of everyday heroes.
Review:
Once again I read this book as a buddy read with Cristina @ My Tiny Obsessions so go check her review in her blog to see her thoughts :).
This review is not going to be easy. I don't even know where to start so sorry if I start going off topic 😛 . I've finished this book a month ago and I still can't put in words how amazing it was. This one of the most amazing reading experiences I ever had.
The format was so unique and so amazing that I can't even find the right words to describe it. I loved how it was written. When I got this book I was really scared to read it mostly because of all the hype around it but I'm so happy that I finally decided to read it because this deserves all the hype. This book had everything: romance, funny scenes, heartbreak and not only. It was full of surprises and even if I tried I couldn't predict what would happen next. I really like the characters. Ezra and Kady were the best. They went through a lot of sh*t and even thought they were teenagers they were so strong when it was needed. Also, sometimes I would melt from how cute and sweet Ezra was when talking to Kady. Most of the times I would be like this:
I also loved a certain character, that I can't talk about because *spoilers*, as it incredible as it might look. And let's not forget about a few side characters I really, really liked and that were amazing. Another reason why I was scared is that I don't normally read sci-fi. Most of the times I end up extremely confused while reading sci-fi but it didn't happened in this one. Well, in the beginning I was a little bit confused but it was the start of the book so it was understandable. This book was a rollercoaster of emotions and kept me on the edge of my seat most of the time. If you have the opportunity you should definitely give this book a try. Also, if you can get a physical copy or even the hardcover because the experience will be amazing. Amie Kaufman and Jay Kristoff made a great job while writing this book. I can't until I can finally read Gemina.
Rating:
Have you read this book? If so, what did you think about it? If you haven't read it would you read it?