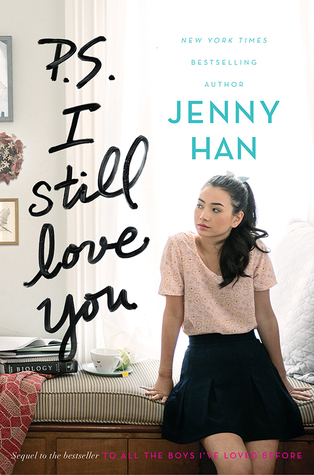 Publication Date:
May 26th 2015
Publisher:
Simon & Schuster Books for Young Readers
Lara Jean didn't expect to really fall for Peter.
She and Peter were just pretending. Except suddenly they weren't. Now Lara Jean is more confused than ever.
When another boy from her past returns to her life, Lara Jean's feelings for him return too. Can a girl be in love with two boys at once?
In this charming and heartfelt sequel to the New York Times bestseller To All the Boys I've Loved Before, we see first love through the eyes of the unforgettable Lara Jean. Love is never easy, but maybe that's part of what makes it so amazing.
Review:
I was really excited to read this book because I loved To All the Boy I've Loved Before however I started reading some reviews that this book wasn't as good as the first one and that's the reason it took me so long to read this book. Let's just say that the reviews I've read about this book were right. I'm pretty sure that a lot of people agree with me when I say that this duology would be better if it was just a stand-alone. Jenny Han could have added the first few chapters to the end of To All the Boys I've Loved Before and it would be better. However this was a pretty cute book and I liked it but there was so much unnecessary drama. I loved the beginning of the book. Seeing Lara Jean interacting with her family and seeing her relationship with Peter was amazing but then all the drama started. Let me just tell you that I understand Lara Jean's jealousy towards Gen. If I was 16 years-old and my boyfriend spent so much time with is ex-girlfriend I was going to feel like Lara Jean but sometimes she was the one creating the problems. If you are with your boyfriend please don't start thinking and talking about his ex. It's stupid. This was part of the drama on this book but to add even more John Ambrose McClaren, one of the guys that Lara Jean wrote a letter, appeared. This means that this book didn't have a love triangle but instead it had a love square. More DRAMA. While I'm saying all this about this book I actually enjoyed it but not as much as the first one and I think that the ending was way too fast. But let's talk about my favorite thing in this book: Kitty. I loved Kitty and I would love to have her a my little sister so Jenny Han, if you want to I would love to read a book about Kitty when she's older.
Overall, this was a cute and fast-paced book. While I would prefer this as a stand-alone I still enjoyed it and I loved to read about these characters again. If you loved To All the Boys I've Loved Before and if you like cute contemporary books you should read this one.
Rating:
Have you read this book? If so, what did you think about it? If you haven't read it would you read it?