Today is thursday which means that is Book Traveling Thursdays, a weekly meme created by me and Danielle @ Danielle's Book Blog. This weekly meme consists in picking a book related to the weekly theme that is announced in the group Goodreads page (if you want to join click here) at the beginning of each month. After that you can write a blog post where you explain why you choose that book and choose different covers from different countries. To make it a little bit easy you are going to choose different editions of the original cover, the cover from your country, your favorite cover, and your least favorite cover. Because tomorrow is World Smile Day we decided that this week theme should be A Book that Made you Smile. There are a few books where I kept smiling through all the book however for some reason most of that books don't have that many different editions and covers so I ended up choosing The Statistical Probability of Love at First Sight by Jennifer E. Smith.
Original and Favorite Cover: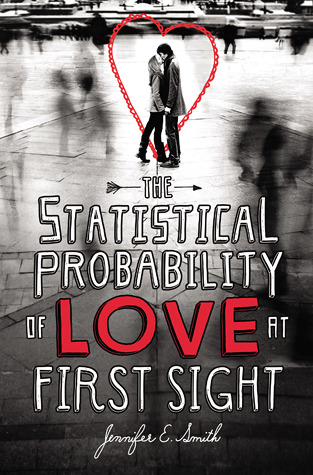 I love this cover. To be honest the cover was the only reason why I wanted to read this book in the first place. I love how is mostly black and white and how it only has a few splashes of red.  Also, it's a cute cover for a cute book.
Cover from my Country (Portugal):
I was really surprised to find out that this book was released in Portugal. I wasn't expecting it, especially because most of the books that have read have yet to be released here. However, I don't like the cover as much as the original. I just think that I wouldn't feel drawn to this book as much as the original cover and I would miss a really cute book.
Least Favorite Covers:
Ok. Let's just talk about my least favorite covers. The statistical probability of reading this book with these covers it's close to zero (pun intended 😛 ). The first one (Indonesia) is just too pink. I like pink but this is too much and I don't like the images used. The second one (Norway) it's weird. I don't understand this cover at all. Really, two eyes? What were they thinking?. The last one (Czech Republic) reminds me of some kind of bad romantic comic book/graphic novel cover. And why are they kissing in the wing of the plane? Am I the only one who thinks that it's weird? Because I think it's really weird.
So this is it, this week Book Traveling Thursdays. What did you think of these covers? Tell me in the comments 🙂 .