Hi guys! As you can see, it's the beginning of another month which means it's time for my monthly feature Beyond the Books where I talk about all the random things I've been watching or loving during that month. In November I ended up not doing a lot but I watched a lot of movies. Anyway, here are a few things I watched and did this past month talk about. 

 The Shannara Chronicles
The only TV show I watched this past month was Shannara Chronicles and I only watched a couple of episodes. The season is already over but I'm only halfway throught because I know what's happening in the next episode and I don't to watch it.

Just Like Heaven
I started out the month by watching Just Like Heaven. I already watched it a lot of times but I love this movie and it was airing on TV so why not watch it again??
Aladdin
Let's go to another episode of "Cátia watches Disney movies whenever they air because it's Disney and she loves it" XD. There's a TV channel who keeps airing Disney movies on weekend mornings and I love it because I can watch my favorite movies all over again. This was also great because I couldn't even remember the last time I had watched Aladdin… it was a long tim ago.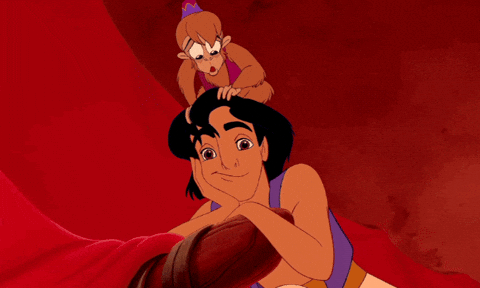 Stardust
Oh look… another movie I love that aired on TV this past month XD. You can tell whatever you want about Stardust but I love it and I watch it every time I can. I even watch the credits because I just want to listen to Rule the World. Anyway, I watched it again… probably for the hundredth time.

The Book Thief
I swear to you, TV was great for me in November. There were so many great movies airing. One of those was The Book Thief. I absolutely adored this book and I loved the movie the first time I watched it. My love just grew this second time because this is such a beautiful and heartbreaking movie. Also, Liesel and Max are friendship goals. I love them so much.
A Christmas Prince
Do you know what just aroung the corner?? CHRISTMAS!! Do you also know who started watching Christmas movies in November? This girl here!. I love Christmas and I especially love cheesy and predictable Christmas movies. Obviously, as soon as I heard about A Christmas Prince I knew I had to watch it. It had everything I expected from one of these movies and I loved it. However, watching Rose with a normal color hair and normal skin tone was weird. I'm used to watch her in her zombie attire.
Home Again
Okay, the movie portion of this post is already too long but don't worry, it's coming to an end. In November I ended up watching one last movie and that movie was Home Again. I had watched the trailer and I loved it. It looked super cute and adorable. Also, Kat spent months talking about it and how much she wanted to watch it (btw Kat, happy for your monthly shout out?? XD). Anyway, I watched it and I loved it and everyone should watch this movie. It's amazing and I love how much it focused in relationshpis but not only in a romantic way.

There was not a lot happening the past month in terms of music again. THe biggest thing that happened was the release of Reputation. I was a little bit scared when I first heard about the change of Taylor's sound but I'm in love with that album. I already have a few favorite songs that I can't stop singing almost every day. I also got obsessed with BTS in November… which is not a good thing. I have been listening to some of their songs for a few months now but in these past two weeks I went to full obsessed mode. I'm blaming it on all the appearance's at american TV shows and to Jungkook and V's cuteness. Also, can we just talk about how amazing their performances are? I could watch those guys dance for hours. What can I do?? XD Anyway, here are a few songs I've been listening too on repeat the past month.
https://open.spotify.com/embed/user/catiinha/playlist/5MYGHLiQ3sonySUS2u1yA9
Here's what I've been doing Beyond the Books during the month of October. I'll be back next month to see with I ended up doing. If you like any of the things that I've talked about don't forget to comment too so we can fangirl about it :D. And if you have any recommendation don't forget to tell me in the comments.