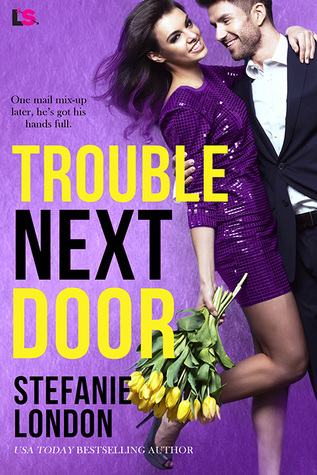 Publication Date:
November 13th 2017
Publisher:
Entangled Publishing, LLC

McKenna Prescott is the queen of picking the wrong men. When her latest boyfriend dumps her, she decides to devote her time to "exploring herself" (read: drinking wine and ordering sex toys online) and starting her freelance makeup business. That is, until an embarrassing delivery mix-up puts her sexy, gruff neighbor in her path…
Beckett Walsh is married to his job…which is a deal-breaker for the woman he's supposed to be marrying. Even worse, his would-be father-in-law has pulled support from Beckett's startup and now Beckett stands to lose everything. But the gorgeous, crazy makeup artist from down the hall has an equally crazy but mutually beneficial idea: if he convinces his sister to hire McKenna for her high-society wedding, McKenna will teach him about what women want so he can get his fiancée back.
All he has to do is make sure he doesn't fall for the wrong girl.
Review:
*I was provided a copy by the publisher in exchange for an honest review
This was a buddy read with Cristina @ My Tiny Obsessions so click HERE to read her thoughts about this book :).
I don't know what 's happening this year with me and NetGalley but I haven't been requesting that many books. So I ended up requesting this one without knowing what to expect. I have read one Stefanie London book previously but I went to this one without knowing that much but I ended up enjoying it quite a lot.
One of the things I liked were the characters. First we had McKenna. I loved her. She's one of those girls who knows what she wants to do with her life. It might be taking her a long time to get there but she does what she wants even if not everyone agrees with her choices. However, she's quite unlucky with guys which takes her to the place she is in the beginning of the book. I also liked Beckett but I had a few problems with him. I loved that he's an introvert and prefers to keep to himself. What I didn't like was that he tried to go back to his ex mostly for the opportunities he would get. I understand that he wanted to help his family but there are other ways to do it. These two also had an amazing chemistry and I loved their interactions. The only thing I would like even more was if their relationship was more developed. Some things felt to fast in my opinion and there were some things that could have been more explored. I also really enjoyed the writing. It was a fast book and it flew easily. I also really enjoyed the dual POV. You all know how much I love my dual POV's XD.
Overall, this was an enjoyable read. There were some things that I would have liked to see being done differently and I would loved a little more development but I ended liking this book and I definitely recommend this one.
Rating:
Have you read this book? If so, what did you think about it? If you haven't read it would you read it?