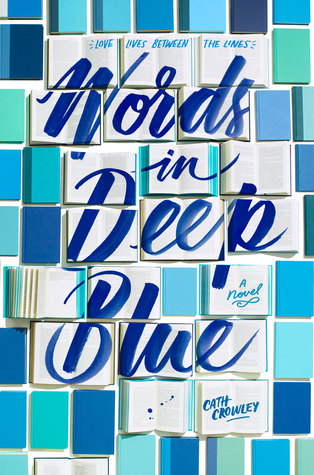 Publication Date:
June 6th 2017
Publisher:
Alfred A. Knopf Books for Young Readers

Love lives between the lines.
Years ago, Rachel had a crush on Henry Jones. The day before she moved away, she tucked a love letter into his favorite book in his family's bookshop. She waited. But Henry never came.
Now Rachel has returned to the city—and to the bookshop—to work alongside the boy she'd rather not see, if at all possible, for the rest of her life. But Rachel needs the distraction, and the escape. Her brother drowned months ago, and she can't feel anything anymore. She can't see her future.
Henry's future isn't looking too promising, either. His girlfriend dumped him. The bookstore is slipping away. And his family is breaking apart.
As Henry and Rachel work side by side—surrounded by books, watching love stories unfold, exchanging letters between the pages—they find hope in each other. Because life may be uncontrollable, even unbearable sometimes. But it's possible that words, and love, and second chances are enough.
Review:
*I was provided a copy by the publisher via NetGalley in exchange for an honest review
I've had this book to read for a long time but some reason I didn't do it until now. When I first saw it on NetGalley I really liked what I read about it and I was super excited to read it but to be honest I haven't been in the mood for young adult so it took me a long time to do it. It helped a lot that both Cristina and Kat read this book before me and kept raving about it and making me curious about it.
I really loved this book and how beautiful it was. The thing I loved the most was how it was written. It was such a beautiful read. I loved how not only had POV's from Rachel and Henry but how also had letters and notes that help us to get to know other characters. That made everything better because it showed that Henry and Rachel were not the only important characters in the book. Another thing I love was that this book is about books. First of all, Words in Deep Blue is set mostly in a bookstore and not even a simple bookstore but a bookstore that has a Letter Library. I loved the concept of that and I want one near me so I can write notes and letters in amazing books. However, there's so much more in this book. This is one of those books that makes you feel everything. It's happy and sad at the same time and it's such an emotional read especially because it deals with loss and grief.
The characters are also awesome. Rachel is such a great girl who lost the joy of her life after losing one of the most important people of her life (which led her to lose even more things afterwards). Also, can we talk how much she's into marine biology?? As someone who actually studied and has some background on marine biology I was really happy about that :D. Then we have Henry… to be honest I wasn't happy with him at beginning because he couldn't open his eyes about certain stuff but he was such an amazing guy. I loved him and I loved his relationship with Rachel and how they supported each other when they needed the most. I also really loved George and Martin. I even loved Cal a lot. These were all such amazing characters and it was difficult not to grow attached to them.
Overall, this was such an amazing book. It's one of those reads that makes you feel everything. You'll cry and laugh and cry a lot but it's worth it because in the end it's such a beautiful read that it would be a waste not to read it.
Rating:
Have you read this book? If so, what did you think about it? If you haven't read it would you read it?