Hi guys, as you might or might not know one of my goals for 2017 was to read more non-fiction books. For me that means read tons of books from celebrities, for some random reason, and that was what I've been doing. While I do love to read fiction I've been having a lot of fun reading about other people experiences and sometimes I see myself in some of the things the authors talk about. So far I've read five non-fiction books out of the sixty-one books I read in 2017. It might not seem a lot but since we're halfway through the year and I've read a total of one non-fiction book in 2016 I'll consider it a success XD. Anyway, because I didn't feel like doing individual posts about these five books today I decided to do some mini reviews about those. Keep in mind that I have read some of these a few months ago so I might already have forgotten about some things.

I've been a big fan of the Fletcher family for a long time. Some of my favorite Youtube channels are from the Fletcher family. Not only I love Carrie's videos but I also love to watch her brother and sister-in-law. Tom and Gi, videos (believe me when I say I'm obsessed with that family XD). As you might imagine when I first learned about this book I got really excited to read it and while it took me a long time to get to it I can tell you that I ended up loving this book.
Here's the thing, there is a reason why so many people call Carrie as "big sister". I loved to read about Carrie's experiences and stories and I really think this is one of those books that can really help when you are younger. To be honest, I think the book would have been better if I had read it when I was younger, especially because I'm older than Carrie, but I still think it was an amazing book and there were a few parts that still touched me and helped me with a few things. I also can tell you that I ended up loving Carrie even more after finishing this book.
Rating:
Lily Collins is one of those actresses who almost everyone knows. I really like her and her work and while I don't love all of her movies (hi City of Bones) I still really wanted to read this book, especially after reading a few excerpts a few weeks before the release. Let me tell you something, if you think she's one of those girls who has a perfect life, mainly because she's basically Hollywood royalty, you're completely wrong. This was such a heartbreaking book at some points. Reading about her struggles growing up, especially reading about her eating disorder, was raw but it's so helpful to someone who might be going through something similar. I also really enjoyed to see her talk about her relationship with her family and how that shaped her. She might focus about her ex-boyfriends a lit bit too much, and I did try to guess who was who, but it was something important to her story. In the end I just thing this is a really inspiring book and it might help a lot someone who might be going through the same thing or something similar to what happened to her.
Rating:
#Girlboss is one of those books almost everyone has heard about either because everyone was talking about it years ago or because of the Netflix show. I can tell you that the first time I heard about this book was about one or two years ago because almost every beauty blogger had the book in their nightstand. I was really interested in it since the first day I heard about it especially after learning about Sophia's journey. I have to tell you that I actually enjoyed the book. To be honest, the author is not very likable and I'm the first to admit I didn't like her that much, however, I can tell you she seemed really honest about her actions and thoughts. One thing I really loved was to read her journey to create Nasty Gal and how much she fought for it. It was such an empowering book but also really funny at some points. I also really enjoyed that she included small chapters written by other female entrepreneurs. I can tell you that I do not recommend this book to everyone since I know a lot of people wouldn't like Sophia's voice.
Rating: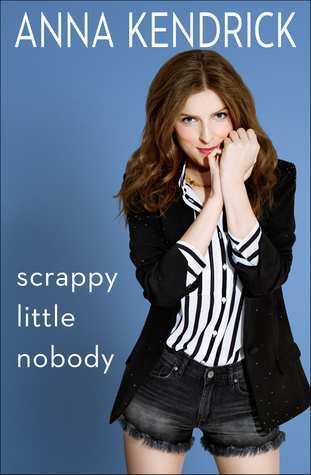 This is another one of those books I've wanted to read since I first heard about it (it helps that I love Anna Kendrick) but it took me a few months to it for some reason. I don't know why I hated so long. Anna is such a funny person. Okay, that's a given since we're talking about Anna Kendrick but she's so funny. I loved her writing and how funny she was while telling stories from her life. I also really liked that this book is more about how she started and not about after she got famous. I also really enjoyed how she gave us some insights about what is to start out in Hollywood. Let me tell, if you think she had an easy life, especially because she's always so funny, I can tell you that isn't true. Her start was filled with difficult months that affected not only her but also her family. I really loved this book and how much we get to know Anna even if she doesn't dive in the most personal stuff.
Rating: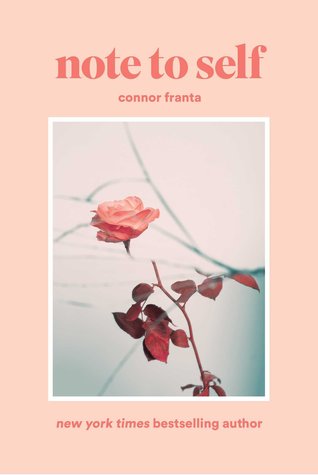 I've been watching Connor Franta's videos for about a year now. To be honest, I don't even watch all of his videos. However he's such a great guy that I knew I wanted to read his books. I could had started with Work in Progress but, to be honest, look at this book… IT'S GORGEOUS. I don't mean this only in the outside because the inside is one of the most beautiful things I have ever seen. This is not only a compilation of essays and poems but it has so many beautiful pictures in the inside that I couldn't stop staring at it (I still can't). Note to Self is almost as a diary full of Connor's thoughts and I loved it. It helped me to get to know him a little bit better but it also helps with a lot of other stuff. This was such an inspiring and raw book . Also, just like Carrie's book, I think this is one of those books that can be really helpful when you are younger and going through difficult times. However, it can still be very helpful when you are a little bit older and going through something. To be honest, all the chapters about doubting yourself and having to accept yourself as you are really got to me since that's something I always struggled, especially when I was younger.
Rating:
---
As you can see, I really enjoyed these books and to be honest I want to read more non-fiction books so if you have any book recommendation leave it in the comments so I can check those books. Also, have you read any of these or want to read it? What did you think of these books?