Hi guys! So today I'm back with another tag because I haven't been doing a lot of tags recently. Today I'm bringing you The GoodReads Book Tag. I wasn't tagged for this but I saw Cristina @ My Tiny Obsessions doing it and it looked like a cool tag to do. Here are my picks for this tag.
What was the last book you marked as 'read'?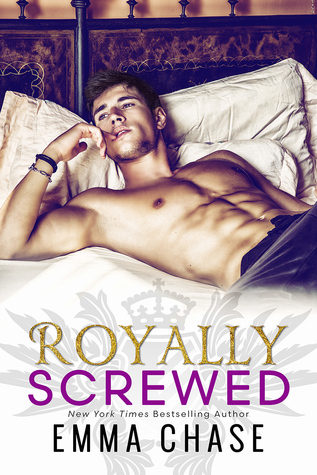 The last book I marked as "read" (and the last book I actually read was Royally Screwed by Emma Chase and I absolutely adored this one.
What are you currently reading?
Currently I'm reading Seeking Mansfield by Kate Watson and while I'm really enjoying I still think it's a little bit slow and it's taking a long time to read it.
What was the last book you marked as TBR?
It looks like the last book I added to my TBR was Cheater's Regret  by Rachel van Dyken. I'm really excited to read this one.
What book do you plan to read next?
I think I'll end up reading The Romeo Catchers by Alys Arden since it's an ARC and it will be released in a week.
Do you use the star rating system?
I normally use a 5 star rating with half stars. Now if only GoodReads would actually add the half stars to their rating system. That would make my life easier.
Are you doing a 2017 Reading Challenge?
Of course I'm doing the reading challenge! I love to do it. In the beginning of the year I set my goal as 65 books and so far I've read 44 which means I'm 21 books ahead. I think it's almost time to up my goal XD.
Do you have a wishlist?
I don't have a GoodReads wishlist. I do have a few wishlists on the Book Depository so I know what I want to buy next.
What book do you plan to buy next?
The next book I'm planning on buying is Lord of Shadows by Cassandra Clare. I'm just waiting for it to be available to buy in Book Depository since I always have problems with pre-orders in there.
Do you have any favorite quotes? Share a few.
I have a few favorite quotes but I haven't updated it on GoodReads for a few years. But here are a few:
"We accept the love we think we deserve."
― Stephen Chbosky, The Perks of Being a Wallflower
"Love is like the wind, you can't see it but you can feel it."
― Nicholas Sparks, A Walk to Remember
"There is nothing I would not do for those who are really my friends. I have no notion of loving people by halves, it is not my nature."
― Jane Austen, Northanger Abbey
Who are your favorite authors?
Some of my favorite authors are Sarina Bowen, Elle Kennedy, Ginger Scott, Colleen Hoover, Cassandra Clare and a lot more.
Have you joined any groups?
I'm in a few groups. Some of those groups are Top 5 Wednesday, Book Traveling Thursdays, The Perks Of Being A Book Addict, 2017 New Adult Reading Challenge…
Because I've been seeing this tag around for a long time and I have no idea who did it or didn't I won't tag anyone. However, if you want to do it consider yourself tagged. Anyway, these are my answers for The GoodReads Book Tag. What about you?? Share your opinions in the comments.