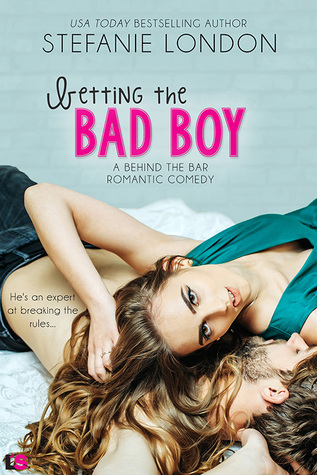 Publication Date:
May 8th 2017
Publisher:
Entangled Publishing (Lovestruck)

Self-confessed perfectionist Paige Thomas isn't used to failing. But when a critical error in romantic judgment sends all her big city career dreams crashing down, she scrambles to find a job—any job—to make ends meet.
Noah Reid may as well have "trust issues" tattooed on his forehead. Being raised in the foster system didn't give him a positive outlook on relationships, but now he's looking after his best friend's bar for one month, and he can't do it alone.
Things get steamy when Noah hires Paige, but she's determined not to repeat her mistakes and she bets Noah that she can keep her hands to herself while they're working together. Too bad for her, Noah is an expert at breaking the rules…
Review:
*I was provided a copy by the publisher via NetGalley in exchange for an honest review
Once again this was a buddy read with Cristina @ My Tiny Obsessions so click HERE to see her thoughts about this book.
When I requested this book I didn't know a lot about it. I really liked the blurb and I was interested to read it but I was also scared because I haven't been that lucky with the ARC's I've been requesting. This one ended up being a pleasant surprise for me and I really enjoyed it.
First of all, for some reason I don't think I have ever read a book set in Australia or if I did I can't remember about it (I know, shame on me). That was the first thing that caught my attention in this book because as soon as it said the book was set in Melbourne I was suddenly super excited about that fact. It's not every day I read book set in Australia and I really want to visit there sometime in the future (if I forget about all the spiders and snakes in there). I know this might be random but it was a breath of fresh air and I loved it.
Now let's talk about more important things, the characters. I loved Noah and Paige. In the beginning of the book Paige is a little bit lost but she still knows what she wants and she still fights to get where she wants. This is the second book I read in a few weeks where the main character is looking for a job but unlike Brielle (from Touch of Fondness), who barely cared about looking for a job (even if she kept saying that she had to do it) and had no idea what she wanted to do with her life, Paige really worked hard. She knew what she wanted and she was doing everything possible to get where she wanted to be. However, things didn't work out as well as she thought. For me that just made her stronger, even if sometimes she wanted to give up. I still loved that she tried to fight for her dreams. Noah was also amazing. He was kind of broken, due to his life while growing up, but he was such a great guy. He was one of those people who's really closed off and has a small circle of friends but you could see that if a person was in his circle (either the friends or the family) that person would become one of the most important people on his life and he would do everything for that person. I really loved that side in him. I also loved his development throughout the book. With everything that happened in his past he ended up afraid of commitment and settle down but seeing him grow so much was amazing. They were also pretty great together and I loved how much they helped each other with their issues. It also helps that they had such a great chemistry.
Another thing I liked was how important Noah's friends and family were to him and how his friends accepted Paige so easily in the moment she needed most (because let's be honest, her best friend was kind of shitty… even if she let Paige sleep in her couch for weeks).
This was my first Stefanie London book so I didn't know what to expect but I ended up enjoying the writing a lot… Once again, I loved that this book had a dual POV and that Paige and Noah had very distinct voices. I also really liked the plot a lot. I just had a few issues with some things that happened in the end… some things just happened to fast.
Overall, this was a really enjoyable book. I really loved the plot and the characters and I loved how much friendship and family were important in this book. I 100% recommend this one for everyone who's in need of some romance that is a fast read.
Rating:
Have you read this book? If so, what did you think about it? If you haven't read it would you read it?