Today is thursday which means that is Book Traveling Thursdays, a weekly meme created by me and Danielle @ Danielle's Book Blog. This weekly meme consists in picking a book related to the weekly theme that is announced in the group Goodreads page (if you want to join click here) at the beginning of each month. After that you can write a blog post where you explain why you choose that book and choose different covers from different countries. To make it a little bit easy you are going to choose different editions of the original cover, the cover from your country, your favorite cover, and your least favorite cover.

This week's theme is Because in Spring time we tend to read more contemporary… Choose your favorite contemporary read. I ended up choosing one of my favorite books Everything, Everything by Nicola Yoon. I actually used this book already over a year ago (here) but at that point there weren't many different covers yet and the book hadn't yet been released in Portugal so I decided to use it again. Also, the movie will be released soon so I thought it was the right time to talk about this book again XD. Here are the covers for this book:
Original Cover: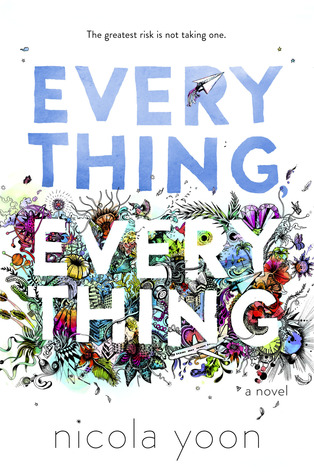 I still love this cover as much as I did in December 2015 when I first talked about this book in Book Traveling Thursdays. I just think the cover is gorgeous and it's super colorful, which is great. This is still one of my favorite ones.
Cover from my Country (Portugal):
The last time I talked about this book it still hadn't been released in Portugal but it finally happened and just look at that gorgeous cover. I love everything about it. When I look at this cover it makes me think of the original one but it's still different which I love. I really appreciate that it has a similar feel. Also, I love the colors.
Favorite Covers:
Movie Tie-In    –    US    –    Zoella Book Club    –    Portugal
I normally don't like movie tie-ins but I really like this one and I'm really excited for the movie. Also, as I said before, I loved the original and portuguese editions but one of my favorite covers has to be the one from the Zoella Book Club. I just love the pink :P.
Least Favorite Covers:
Hungary    –    Czech Republic    –    Iceland    –    Bulgaria
Soooo… yeah, I don't like any one these at all. These are all weird and don't make me think about the book. By the way, who is that supposed to be in the Bulgarian cover??? Because that's not Maddie at all. Did they even bother to read the book before?
So this is it, this week Book Traveling Thursdays. What did you think of this cover? Tell me in the comments 🙂