Hi guys! As you can see, it's the end of another which means it's time for my monthly feature Beyond the Books where I talk about all the random things I've been watching or loving during that month. In April I didn't do a lot. The month went by super fast and I've been busy with a lot of stuff. I still watched a few things that I ended up loving during the month so I'll have a few things to talk about. Let's see what I've been watching and listening to.

13 Reasons Why

I think it's not a surprised I ended up watching 13 Reasons Why during the month. I already wanted to watch it before the premiere but everyone was talking about it and that made me want to watch it even more. Then Kat binge watched it in 24 hours and kept talking about it so I wanted to watch it even more than before. Good thing the show premiered right when I had a few days off from work XD. So yeah, I ended up watching it and I actually finished it in the beginning of April and I'm still not over it. I'm not talking a lot more about here because I did have a blog post that was all about 13 Reasons Why that you can read HERE.
Girlboss
The other TV show I've been watching during April was Girlboss. I read the book in the end of March/beginning of April and I was super excited to see how that would be shown on a TV show. While the show is loosely based in real events I'm still enjoying it a lot. By the time I'm writing this I only watched the first 5 episodes but I hope to finish it soon. Also, kudos to some The OC references. My teen self loved that XD.
Beauty and the Beast
In the beginning of April I was finally able to watch Beauty and the Beast and I loved it so much. It was everything I wanted and needed and I might have spent the next week singing the songs. I just loved everything about that movie.
The Lizzie McGuire Movie
Have I told you how great April was for my old teen self? First I get The OC references on a TV show and then I find out that The Lizzie McGuire Movie is airing. For a girl whose teenage years consisted of those (and other) things I might even say that this is what dreams are made of (see what I did here??? This joke is getting old so I'll never use it again XD). But yeah, I ended up watching The Lizzie McGuire Movie a few days ago and I loved it as much as I did the last hundreds of times I watched the movie. This is still one of my favorite Disney Channel movies ever (even if Camp Rock is pretty close). Also, I had forgotten how much I loved the soundtrack of the movie.

This month I mostly listened to songs from different soundtracks for some reason. First of all, I love the Beauty and the Beast soundtrack so I obvious listened to it a lot after watching the movie. Then we have the 13 Reasons Why which is perfections. But here are some of the songs I've been listening to:
https://open.spotify.com/user/catiinha/playlist/1GQRWDEbj1ginuA6mtk0Lb

Simply Nailogical
I had no idea what to talk about in this category this month since I've been watching doing basically the same I do for months so I decided to talk about Simply Nailogical since this is one of the few YouTube channels I still watch regularly. I don't know how to explain Cristine to you but I'll try. If you don't know this channel you still can see by the name that this is a nail related YouTube channel. However, this channel is more than that. To be honest, I don't even care about nail art, my nail are always in a terrible shape. I mostly watch this channel because Cristine is hilarious and I love her. She funny as hell and her love for holo is one of the best things ever. She's also the person behind the whole 100 layers challenge that was all over YouTube last summer which made her win millions of subscribers.
Seeing that I was already subscribed to her for a long time before that it was amazing to see her grow so much in a such short time. Nowadays her videos are not only nail art related but they're all funny as always. I also love her whole entourage from her boyfriend, to her cats and even her sister. But kudos to her boyfriend for dealing with the crazy things she makes him go through XD.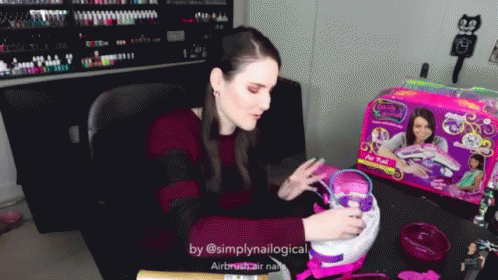 ---
Here's what I've been doing Beyond the Books during April. I'll be back next month to see with I ended up doing in May. If you like any of the things that I've talked about don't forget to comment too so we can fangirl about it :D. And if you have any recommendation don't forget to tell me in the comments.