Today is thursday which means that is Book Traveling Thursdays, a weekly meme created by me and Danielle @ Danielle's Book Blog. This weekly meme consists in picking a book related to the weekly theme that is announced in the group Goodreads page (if you want to join click here) at the beginning of each month. After that you can write a blog post where you explain why you choose that book and choose different covers from different countries. To make it a little bit easy you are going to choose different editions of the original cover, the cover from your country, your favorite cover, and your least favorite cover.

This week's theme is Choose a book that has originally a blue cover. I ended up choosing Goodbye Days by Jeff Zentner for this week because I read it recently and the covers are blue so it fits the theme perfectly. Here are the covers for this books:
Original and Least Favorite Cover: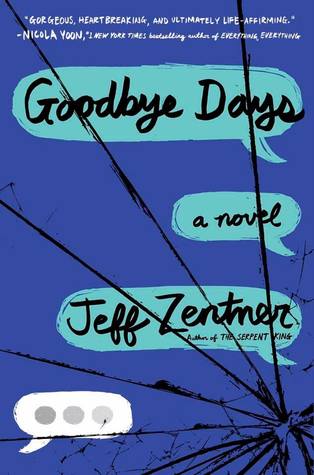 Don't get me wrong… I really like this cover but it isn't my favorite. I really like the colors used and how simple it is. I also really like that the cover fits the books. The broken glass and the text bubbles are connected to the story and I love that they did this.
Favorite Cover:
My favorite cover has to be the UK one. It's pretty similar to the original one but I like the colors better in this one so it's definitely my favorite.
So this is it, this week Book Traveling Thursdays. What did you think of this cover? Tell me in the comments 🙂