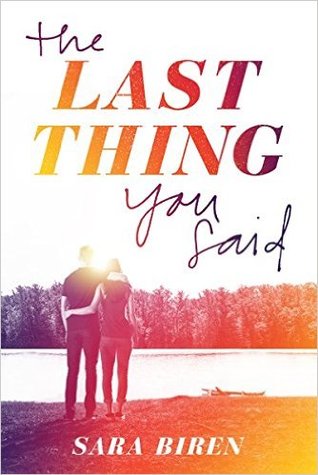 Publication Date:
April 4th 2017
Publisher:
Amulet Books
Last summer, Lucy's and Ben's lives changed in an instant. One moment, they were shyly flirting on a lake raft, finally about to admit their feelings to each other after years of yearning. In the next, Trixie—Lucy's best friend and Ben's sister—was gone, her heart giving out during a routine swim. And just like that, the idyllic world they knew turned upside down, and the would-be couple drifted apart, swallowed up by their grief. Now it's a year later in their small lake town, and as the anniversary of Trixie's death looms, Lucy and Ben's undeniable connection pulls them back together. They can't change what happened the day they lost Trixie, but the summer might finally bring them closer to healing—and to each other.
Review:
*I was provided a copy by the publisher via NetGalley in exchange for an honest review
Once again this was a buddy read with Cristina @ My Tiny Obsessions so click HERE to read her thoughts about this book :).
This is one of those books I didn't know what to expect. to be honest, one of the reasons why I requested this book was the cover because it's gorgeous and I'm a sucker for beautiful covers. However, this book is not only beautiful outside because inside is just amazing and I loved everything about it.
This was the second book I read in a week that dealt with grief.  Before reading The Last Thing You Said I had read Goodbye Days and while both read with some similar situations they couldn't be more different. One thing is for sure, I loved both for different reasons. Unlike Goodbye Days, The Last Thing You Said deals not only with grief but it's also a romance and I loved it for it. I love romances and if you tell me the story of two people who already loved each other for years and end up having a second chance it's really probable that I'll love it and that's what happened. That this is so much more than romance because during the summer this book is set Lucy and Ben grow so much and part of it has to do with accepting what happened and deal with grief.
I really loved the characters in this book. Lucy was just an amazing girl. While she lost her best friend and is having a hard time dealing with that she still tries to be a normal teen and just like any normal teen she makes some mistakes (that sometimes I prefer to forget that happened). However, she's an awesome and loyal girl and I loved to see her grow during the book. Unlike Lucy, Ben has been having more problems with dealing with his sister's sudden death. He's angry with everyone and he does some stupid things and messes up a lot but deep down he's a great guy and I love him. He was my favorite character in this book. They also pretty amazing when they were together but gosh, did it took them a long time to talk about things that should have been talked about a long time ago. I just wanted them to talk, go back to being friends again and work on their relationship. I also love the families and friends in this book. They are all amazing and super supportive (even when they don't show it as much as they should) but Hannah has a special place in my heart. I'm going to be honest here, I didn't like her at all in the beginning but she is one of the best things that could have happened to Lucy after losing her best friend.
This was my first Sara Biren, since it's her debut novel, but I loved her writing style. I couldn't stop reading. I also loved that she told this story in a dual POV with also a few scenes from the past. It worked really well and it helped a lot to understand Lucy and Ben's relationship with each other but especially with Trixie.
Overall, this was an amazing book. It was emotional and heartbreaking but I loved everything about it. I 100% recommend this book and I can't wait to read what Sara Biren will write next.
Rating:
Have you read this book? If so, what did you think about it? If you haven't read it would you read it?