Today is thursday which means that is Book Traveling Thursdays, a weekly meme created by me and Danielle @ Danielle's Book Blog. This weekly meme consists in picking a book related to the weekly theme that is announced in the group Goodreads page (if you want to join click here) at the beginning of each month. After that you can write a blog post where you explain why you choose that book and choose different covers from different countries. To make it a little bit easy you are going to choose different editions of the original cover, the cover from your country, your favorite cover, and your least favorite cover.

This week's theme is International Day for the Elimination of Racial Discrimination was a couple of days ago… Choose a book with a POC as a main character. Today I decided to choose The Sun is Also a Star by Nicola Yoon that has not only one but two main characters that are POC so why not use this book? It also helps that I really enjoyed it :). Here are some of the covers for this book:
Original and Favorite Cover: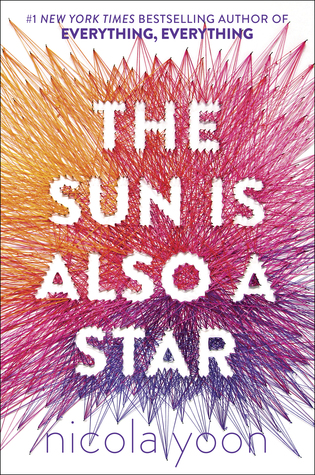 Let's all just take a minute to look at this cover and see how gorgeous it is. This is one of the most beautiful books I own (and I do have a lot of books). I love how colorful it is and how they included the title in the font. I also love that the cover fits the books you know?? It shows every string connecting and the story itself shows how every lives are connected. It's just an awesome cover and I love it.
Least Favorite Covers:
So far this book was released in 3 other countries. One of them was Brazil but I decided not to include the cover because it's basically the original cover but with the title in portuguese. Now let's talk about these two… I don't like it. The cover from Turkey looks like a cheap version of the original one in a weird way. It doesn't look that good to be honest. Then we have the cover from Serbia… what in the hell is that?? Kudos to try to make the title look like a sun but it doesn't work at all. I just don't like it.
So this is it, this week Book Traveling Thursdays. What did you think of this cover? Tell me in the comments 🙂