Hi guys! It's the end of the month which means it's time for my monthly feature Beyond the Books where I talk about all the random things I've been watching or loving during that month. February wasn't a very good month for me. I've been super busy with moving, I was on a medical leave from work for a week (don't fall from the stairs because it hurts like bitch) and was on a reading, TV and movies slump. I was also without TV and wi-fi for a week but that's back to normal now. As you can see, a weird month. I didn't do a lot this month. However, I still have a few things I loved during the month of February so I'll have a few things to talk about. Let's see what I've been watching and listening to.

Riverdale

So, just like a lot of people I'm kind of obsessed with Riverdale. I'm blaming Kat for that because not only was she the one making me watch the show but also because she keeps my obsession alive by constantly sending me gifs from the show XD. I just love the show and the look of it. To be honest, I don't know a lot from Archie Comics. I knew about the love triangle and that was it. Until a few weeks ago I didn't even know that both Josie and the Pussycats and Sabrina were from Archie Comics (I'm excited for Sabrina in the show). I still love the show a lot and Veronica and Jughead are my babies. Don't hurt them or I'll be mad.
Yuri!!! on ICE
I finally finished the first season of Yuri!!! on ICE. It helped a lot when I didn't have wi-fi for a week XD. I really loved this anime. I used to be obsessed with figure skating so it was cool to see it in another way. I have to say that the show was ridiculous at some point but funny as hell. I really want season 2 now. I'm also kind obsessed with the opening theme and it has been on my head for a week now.
Free! Eternal Summer
As you might know I watched Free! Iwatobi Swim Club last year and I was obsessed but I stopped for there for some reason. In February I decided it was time to finally watch season 2, Free! Eternal Summer and so far I'm halfway through it. For some reason I love these animes that are about sports and ridiculous in a good way XD.
Valentine's Day
February was the month of Valentine's Day which means it was time for me to watch Valentine's Day, mostly because it was on TV XD. Once again, it was one of those really cute movies that I just love. Also, who can forget about the time TaylorSquared? XD

Once again, I haven't been listening to a lot of music but there are some new songs I like and Imagine Dragons are back so that makes me happy. But here are some of the songs I've been listening to:

ThreadBanger
ThreadBanger is a Youtube channel composed of a couple, Rob and Corinne and they normally do DYI's but not in a traditional way. Let's just say that Rob always messes something up and there's always some kind of injury XD. They have a few series that I love and I can't stop watching it. But please, if you're too young don't watch it because there's always a lot of blood and swearing in those videos, especially if it's one of Rob's videos. Anyway, they are still awesome and I love them.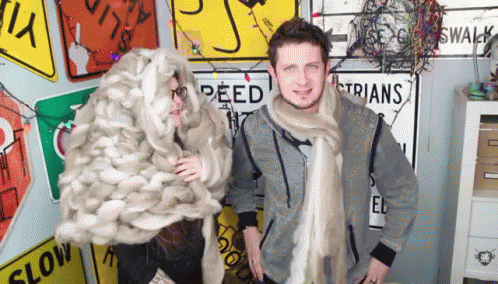 ---
Here's what I've been doing Beyond the Books during February. I'll be back next month to see with I ended up doing in March. If you like any of the things that I've talked about don't forget to comment too so we can fangirl about it :D. And if you have any recommendation don't forget to tell me in the comments.