Publication Date:
January 10th, 2015
Publisher:
Vansant Creations

Emily never expected to find love in a dart bar, but the moment she spots tall, sexy Sebastian, she's determined to catch his eye.
Ex-girlfriends, perpetually shirtless rich boys, frantic best-friends and a mysterious orange handbag converge to stop her.
No one said stalking was easy, but if romance was left to the boys, the human race would die out while they logged fantasy football points and punched each other in the balls.
Everyone knows that.
Emily's not stalking Sebastian…she's saving the world.
Review:
Once again this was a buddy read with Cristina @ My Tiny Obsessions so click HERE to read her review :).
When I first read the blurb for this book it kind of sounded funny. It also had amazing reviews and it was free on Kindle so I got it and when I was needing something easy and funny I decided it was time to read it… WORST DECISION EVER! It has been over a week and I'm still trying to understand what the hell I read because there were so many wrong things on this book. I don't even know where I should start this review because it was too much. But be warned, this review might contain some spoilers.
Let's start from the beginning, this book was supposed to be funny… for me, it wasn't funny at all. I didn't understand the humor on this at all. In my opinion the "funny" bits were just dumb. For example, Emily (who is a 30-something year-old) getting tape to stick in her boobs and then saying "Who knew tape was so sticky?" when taking it off was supposed to be funny… well, from what I know tape is supposed to be sticky so I'm pretty sure everyone knew it was sticky -_-'. I'm sorry if I can't find anything amusing in this book. This is only one of the many situations I didn't find funny at all but if this was my only problem on this book everything would be funny because  in my opinion this book also had the worst characters ever.
As I said before Emily is our main character. She's a 30-something year-old woman who works from home and is looking for love. At first you would think there's nothing wrong in this right?? Well, it's bad when looking for love she falls in love with the first guy she sees and starts stalking him. I know the book is called Slightly Stalky and I know she would be kind of stalky towards Sebastian but she's not just slightly stalky, she's CRAZY. As soon as she sees Sebastien she's interested right away. She gets to the point where she finds out where he works and goes there to see him and ask him on a date. I don't know about you but this would weird me out. It's bad when her own friends encourage her to stalk him even if they know it's wrong. When he tells her he has a girlfriend (more on that in a bit) she gets "heartbroken" but only for a few hours. Want to know why?? Because the next day she starts a new job where she meets this super hot guy -_-'. This really hot guy?? Also dumb as a door. I'm not even kidding. He thinks we're on 20th Century because "20th Century Fox" appears in the beginning of a lot of movies (btw, this was also supposed to be funny). She knows this but keeps going out with him because he's hot. They later become friends but the whole thing was stupid.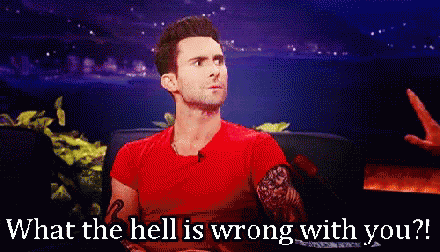 Sebastian was not better than Emily. Actually, I think he was actually worst because he did stupid things all the time. First of all, he stayed with his girlfriend, Greta, just because he was living with her and didn't like changes. He knew she was cheating on him but did he left her?? No, because her place was close to his workplace. Every time he tried to break up with her Greta would lie about something and he would believe on it without blinking. Come on dude! If dramatic things happen every time you try to break up with your girlfriend it might mean something. Then he met Emily and he was head over hells, just like her. He never questioned the fact that she kept showing at the bar he used t hang up and never questioned that she showed up on his workplace. They never discussed the fact she stalked him in the beginning and to be honest, I'm pretty sure he had no idea she did that. But here's the thing, I'm pretty sure that even if he found out it wouldn't change a thing and that's wrong. This guy had no backbone at all.
Things could have been solved if they had a great chemistry right?? Well, there was no chemistry AT ALL. I still don't know what they saw on each other, only that they thought they were hot. To make everything worse, he ends up moving to her place!! They barely knew each other and Emily was already suggesting he should move in with her. She was "helping" him looking for apartments and kept showing him the worst ones so he would move with her and in the end he did it. WTF? Maybe it would have been better if he decided to live apart from each other at least so they could get to know each other. I also think he shouldn't move in with a girl right after leaving his ex-girlfriend place. Everything was just wrong and it doesn't help that there was no character development at all even if the book was set in a few months of time.
So yeah, I didn't like this book at all and I'm not even trying to hide it. At one point I considered to DNFed it because I just couldn't deal with it anymore but for some reason I kept reading it. I also read somewhere there was some kind of twist in the end and I wanted to know what the twist was. Cue to another disappointment because you know the twist?? I saw it coming from miles away and I'm pretty sure anyone would see it coming also.
Overall, this was not an enjoyable read at all. I had a lot of problems with this book and I still can't see where in the hell this was supposed to be funny. While I can't recommend this book to anyone you still can like it because this book is full of amazing reviews on Goodreads. Maybe the humor was just not for me.
Rating:
Have you read this book? If so, what did you think about it? If you haven't read it would you read it?