Today is thursday which means that is Book Traveling Thursdays, a weekly meme created by me and Danielle @ Danielle's Book Blog. This weekly meme consists in picking a book related to the weekly theme that is announced in the group Goodreads page (if you want to join click here) at the beginning of each month. After that you can write a blog post where you explain why you choose that book and choose different covers from different countries. To make it a little bit easy you are going to choose different editions of the original cover, the cover from your country, your favorite cover, and your least favorite cover.

This week's theme is Choose a book that was a big surprise for you. This is getting harder and harder with every week. Not only is difficult to come with new topics every month (btw, suggestions would be welcomed and I would be super thankful for that) but I'm also getting out of books that have enough covers to show to you XD. The book I choose for today will only have two covers and it's Rookie Move by Sarina Bowen. I read this book last year and while I knew I would enjoy it (it's Sarina Bowen so it was expected) I had no idea I would love it so much. Anyway, here are some covers for this book:
Original and Least Favorite Cover:

Here's the thing, there's a reason why I love to read from my phone or eReader so much and this cover is a good example. People in the train would judge me if they saw the cover of the books I read. Don't get me wrong, I love those book (and this one) but the cover is not the best thing ever. I do think it's a good cover if we consider that most romance books have similar designs and I love the font used in the title. I just think these covers are too much okay?? XD
Favorite Cover: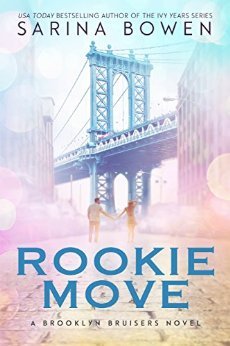 I really like this cover and the design used. It's super cute and while it doesn't have the typical look most romance novels have I still like it very much. I also love that we can see the Brooklyn Bridge and that we have Leo and Georgia represented without being too much. I really like this cover.
So this is it, this week Book Traveling Thursdays. What did you think of this cover? Tell me in the comments 🙂