Today is thursday which means that is Book Traveling Thursdays, a weekly meme created by me and Danielle @ Danielle's Book Blog. This weekly meme consists in picking a book related to the weekly theme that is announced in the group Goodreads page (if you want to join click here) at the beginning of each month. After that you can write a blog post where you explain why you choose that book and choose different covers from different countries. To make it a little bit easy you are going to choose different editions of the original cover, the cover from your country, your favorite cover, and your least favorite cover.

This week's theme is It's Christmas Time!! Choose a book that makes you think about Christmas. I had a hard time this week because I couldn't think of any book that made me think of Christmas. Well, there's Harry Potterbut I don't really have time to look through the hundreds of covers out there. So I ended up choosing a book I haven't read and probably won't because it's a kids book. Here's a fun fact about me: I love the Fletcher family. If you don't know them, Tom and Giovanna Fletcher are one of the most awesome couples out there and their kids are adorable. They are both authors and youtubers and Tom is also a member of Mcfly. Recently Tom releases a book called The Christmasaurus and that book makes me think about Christmas so I had to choose it. Let's see some covers for this book (that are not many to be honest:
Original and Favorite Cover: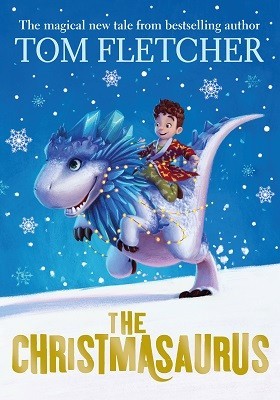 Let's all be honest here, this cover is GORGEOUS. I love it and I love how cute the Christmasaurus is. He's adorable and I want one for myself now. But really, I love this cover and everything about it. It's super cute.
Cover from my Country (Portugal):
So, something really surprising happened. This book is only out in two countries, UK and  Portugal. Don't ask me how but the portuguese publisher did an awesome job on bringing this book here so fast. I like the portuguese cover. It's basically the same as the original one with only a few small changes. So yeah, there's no least favorite covers this week because I like both and this book doesn't have any other covers XD.
So this is it, this week Book Traveling Thursdays. What did you think of these covers? Tell me in the comments 🙂