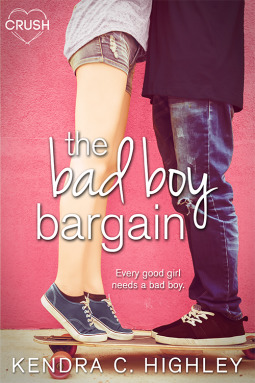 Publication Date:
November 14th 2016
Publisher:
Entangled: Crush

Baseball player Kyle Sawyer has many labels: bad boy, delinquent, ladies' man, fearless outfielder… Only one of them is actually true. But then sweet ballet dancer Faith Gladwell asks him to help wreck her reputation, and everything goes sideways.
Faith knows a thing or two about love, and what she had with her cheating jerk of an ex wasn't it. When he starts spreading rumors about her being an Ice Queen, Faith decides it's time to let a little bad into her life.
Lucky for her, Kyle Sawyer—dark, dangerous, totally swoonworthy Kyle Sawyer—is landscaping her backyard over Spring Break. Shirtless. And if she can convince him to play along, "dating" Kyle will silence the rumors.
But Faith's plan threatens to expose Sawyer's biggest secret of all…and that's a risk he's not willing to take.
Disclaimer: This book contains drop-the-book-and-fan-yourself kisses…and touches. Fall in love with a bad boy at your own risk.
Review:
*I was provided a copy by the publisher via NetGalley in exchange for an honest review
Once again this was a buddy read with Cristina @ My Tiny Obsessions so click HERE to read her thoughts about this book :).
As you might know I love Entangled Crush books. They are cute, adorable and always have the most swoon-worthy guys ever. So when I saw this one on the Entangled newsletter and read the blurb I knew I had to read it because it would be as adorable as the past ones.
Here's the thing, this wasn't my favorite Entangled Crush book neither my favorite Kendra C. Highley but I still liked it a lot. I just had a few problems with it too. My main problem was Faith. I didn't connect with her at all, especially her reasons to ask Kyle to ruin her reputation. For me it was a stupid reason and it made the premise not that good. I also don't think she had a great development in the book which affected what I felt about Faith. However I did love Kyle. I loved how amazing he was and how complex he was.  Unlike Faith, Kyle was really well developed and I loved that we were given the chance to understand why he created a whole new persona. I also loved how much he loved his business and gardening. He was just an awesome guy and my favorite part of this book.
While I didn't connect at all with Faith I still loved to see her with Kyle and they were the sweetest thing together. First of all, I loved how their "pretended relationship" never really happened because they actually went to dates and had a connection even before they started pretending. I also loved that they helped each other at any chance they had, especially Kyle… that guy would do anything for Faith. However, everything happened to fast for my taste in that relationship and it was an instalove kind of thing that I normally don't like at all.
Because this is not my first Kendra C. Highley book I knew I would love the writing in this one and I did. I think she did an even better job than before. I just would have wanted her to develop Faith a little bit more so we could understand and connect to her more.
Overall, this was a really enjoyable book. It was cute and sweet and I loved it for that. I might had a few problems with it but I still enjoyed this book a lot. IF you're into young adult contemporary (or love Entangled Crush as much as I do) you should give this one a try.
Rating:
Have you read this book? If so, what did you think about it? If you haven't read it would you read it?