Hi guys! Today I'm back with another tag. The lovely Marta @ The Book Mermaid tagged me for the Bookish Mid-Autumn Festival Tag that was created by Tinka @ The Crazy Reader. I had no idea what the Mid-Autumn Festival was before this tag but it looks like it's a Chinese traditional festival inspired by a tale of an alchemist where they celebrate by eating mooncakes, watching the full moon and playing with lanterns. This looks like a pretty damn cool festival. Thank you so much Marta for tagging me :D. Now let's start with this post 😛 .
1. REUNION OF FAMILY: Name a Book with Family Goals.

This might be the easier answer to this tag… the Cannings. The Cannings are just family goals. I love how they are supportive of each other and how much they love each other even if they are a big family. I just want to be part of the Canning family. Is that possible please??
---
2. FULL MOON: Name a Book with a Werewolf (this festival has nothing to do with werewolves; the only common things is the full moon).

I have to go with a really obvious answer to this one because all the books I can remember that have werewolves are well-known. So I decided to choose one of my favorite series, The Mortal Instruments. There are tons of werewolves in this one and most of them are actually cool.
---
3. MOONCAKES: Name a Kind of Food in a Book that you Wish was Real.
For some reason I can't think about food in books so once again I'm going with an obvious choice. I will have to go with Harry Potter because food is one of the things that comes to my mind when I think about Harry Potter. They just have the most awesome things. And don't even make me think about all the banquets they had at Hogwarts… ALL THE FOOD!
---
4. RABBIT: Name your Favorite Creature from a Book.
I don't want to say Harry Potter and The Mortal Instruments again and I can't really think about any creature so I'm choosing one of my favorite pets in books and I have to say Taigi from That Thing Between Eli & Gwen because Taigi is one of the best dogs out there. Such an awesome and faithful dog. I love him.
---
5. CHANGE: A Character that Makes a Significant Change to the Plot Since he/she did Something too Many Times.
I really can't think of anyone so I'm stealing Marta's answer and say Tris. That girl kept doing stupid things even when people told her she shouldn't because it wouldn't work. Everything would have been better if she wasn't so stubborn and if she listened to other people.
---
6. LANTERNS: Name a Toy or Game in a Book that you Liked to Read About.
This is becoming one of those tags were I can't think of anything right? XD I really can't think of any toy or game that I would like to have or I liked to read about so I'm cheating a little bit and say I loved the Firebird and I want one. I know it's not a toy but I still want to have one. How could it would be to travel to different dimensions?
---
7. AUTUMN: Name a Book which you Feel is the Best to Read in Autumn.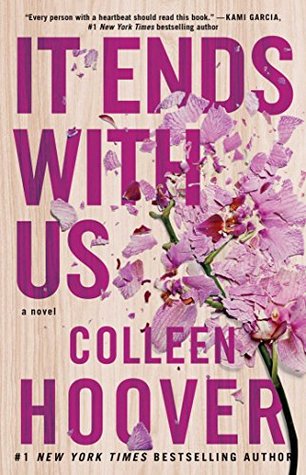 I think I'm going to choose a book that I want to read this Fall. I don't know if this is a book that it feels better if read in Fall but I really want to read it. That book is It Ends with Us by Colleen Hoover and I'm pretty sure it will be amazing and it will bring all the feels. Also, look at that gorgeous cover.
---
8. FESTIVAL: Name your Favorite Festival in a Book 
By the end of The Summer I Became a Nerd there was a festival in the town the book was set to support local business and I loved the idea around that festival. It was such a cool concept and I loved it :D.
---
I Tag:
Once again you don't have to do this tag if you want to and if I haven't tagged you and you want to do it just tell me in the comments that I'll tag you :D.