Hi guys! It's the end of the month which means it's time for my new monthly feature Beyond the Books where I talk about all the random things I've been watching or loving during that month. If I thought that July was a great month August was even better, at least in terms of TV shows watched. September was a weird month for me. I was busy most of the time and didn't have a lot of time to watch TV. I also wasn't in the mood, so yeah, September was not as good as the previous months. But let's see what I've been watching and listening to.

Hit the Floor
September started in a high note because the Hit the Floor Summer Special finally aired and I loved every single bit of it. I don't even know what to say about it because I loved it. That episode was full of ALL THE ZUDE FEELS. I loved how much they focused on Jude and Zero. Those two are the cutest couple in that show and I would definitely watch a spin-off about them living their normal lives. I don't need drama at all, I just need to see Zude every week. I need to see them every week so much that I even lost count how many times I watched their scenes in the past few weeks. The only thing I'm sad about is that the special felt like a series finale which means we probably won't get a season 4. What am I going to do without these characters in my life??
UnREAL
As I said last month, I started UnREAL season 2. I'm still on episode 5 but things are already crazy as hell. I'm still trying to understand how I feel about this season but so far it's not as good as season 1. Also, I really don't like to see Quinn and Rachel against each other… they are made to be together in the same side. I really don't know what to say about this one, only that I miss Adam and my hate for Jeremy keeps growing. I hope I finish the season in October but let's wait to see.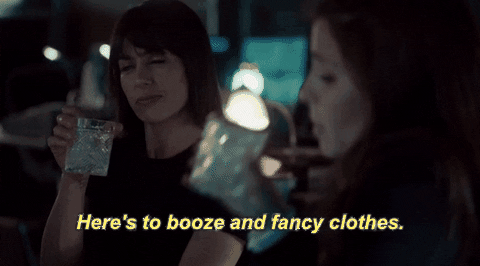 The Voice Portugal
I love to watch The Voice either it is the US one or the portuguese one. But anyway, The Voice Portugal came back about 2 weeks ago and I'm loving this season. There is so much talent that I can't even imagine how the mentors will be able to choose their teams. I also have a few favorites already one of them to win. Just look at these performances:
I just hope one of them wins because they are amazing… even if I know that the Blind Auditions are not over yet and that there are some big talents out there.
Tha Nanny Diaries
This month I only watched movies that were on TV so most of them have already a few years. The first one I watched was The Nanny Diaries that has Scarlett Johansson and Chris Evans pre-Marvel. I really like this movie so every time it is on TV I have to watch it. I also love Chris Evans so I never miss one opportunity to see him on my TV XD.
Wild Child
I'm the first one to admit that I don't like Emma Roberts that much but I really like this movie so I watched it every time. It doesn't hurt that Alex Pettyfer is on it, right?? XD I just really like these type of movies that are set in boarding schools and where the girl changes a lot to the better.
Maleficient
Once again, I not a big fan of Angelina Jolie but I really like Maleficient. I love the atmosphere in this movie and the fact that it's about the villain and not about he princess. I think they created a great back story to Maleficient even if I know that a lot of people don't like it.
The Proposal
Is anyone out there who doesn't love this movie?? I absolutely adore it. It's funny as hell and it helps a lot that it has Ryan Reynolds and Sandra Bullock in the main roles. I just love this one and I have to watch it every time that it's on TV so that's what I did last week XD.

Here's the thing, I've been listening to some of the same songs I was obsessed with past few months. I did start listening to more Halsey, I'm loving Ellie Goulding's new song and I'm listening to more McFly because the guys have been on tour and Tom's vlogs make me want to listen to their songs. So here are some songs I've been obsessing with:
There are a few more songs I've been listening to constantly during September so I'll leave you with a playlist of some of those songs :D.

LINE: Disney Tsum Tsum
I love Tsum Tsums and I have loved this game for a long time. There were a few months I haven't played it a lot but recently I started playing again and I'm loving it. This is basically a game where you connect 3 or more of the same Disney Tsum Tsum to eliminate them to get points and it's super funny. The best thing is that with the coins you get you can buy mystery boxes that will give you new Tsum Tsums that will have different skills. I play mostly with my Ariel Tsum Tsum because I love her skill but there are other I use sometimes on my games.

---
Here's what I've been doing Beyond the Books during September. I'll be back next month but I don't know if I'll have a lot to talk because I've been super busy and without any time to these kind of things and that might be going for a few more weeks. Let's see how October goes If you like any of the things that I've talked about don't forget to comment too so we can fangirl about it :D. And if you have any recommendation don't forget to tell me in the comments.