Today is thursday which means that is Book Traveling Thursdays, a weekly meme created by me and Danielle @ Danielle's Book Blog. This weekly meme consists in picking a book related to the weekly theme that is announced in the group Goodreads page (if you want to join click here) at the beginning of each month. After that you can write a blog post where you explain why you choose that book and choose different covers from different countries. To make it a little bit easy you are going to choose different editions of the original cover, the cover from your country, your favorite cover, and your least favorite cover.

This weeks theme is It's back to school time! Choose a book set on high school or college. I decided to choose a book set in college because it's a book I've read recently and that I loved. The book for this week is The Deal by Elle Kennedy. This book is perfect and I loved it so why not using it this week right? XD So let's see a few covers:
Original Cover: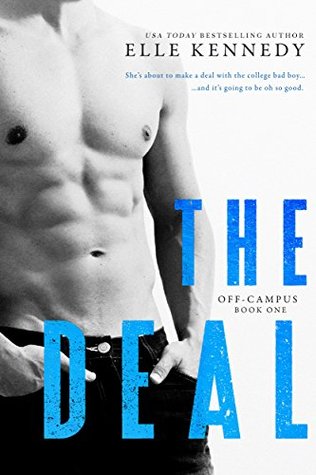 I'm going to be honest… I didn't like this cover at all when I first saw it but now I love it for some reason. First of all, I really like the positioning of all the components in this cover. It works. The second reason is that I can see Garrett (the main character) posing half-naked to a book cover. That is something he would do without any doubt XD. So yeah, I love this cover.
Cover from my Country (Portugal):
Why??Why does this cover has to be like this? I don't like it at all. It's weird and it's too dark for my taste. If I didn't know that this was a new adult romance I would think this was an erotic book because it looks like that.
Favorite Covers:
US   –    Denmark    –    Brazil
As I said before, I really like the original cover. I also really like the one from Brazil… it's super cute and I love it. However, my favorite has to be the cover from Denmark. Look at that cover. This is one of those covers that is aesthetically pleasant and where everything looks good. I like it.
Least Favorite Covers:
Portugal    –    Spain    –    Italy    –    Russia
I already explain why I don't like the portuguese cover. Get a grip and do something better please. I also don't like the other three covers at all. They all look weird. Once again, the cover from Italy looks everything but a new adult book. And what's happening in the cover from Russia?? I know that the book is set on college but that cover is weird.
So this is it, this week Book Traveling Thursdays. What did you think of these covers? Tell me in the comments 🙂