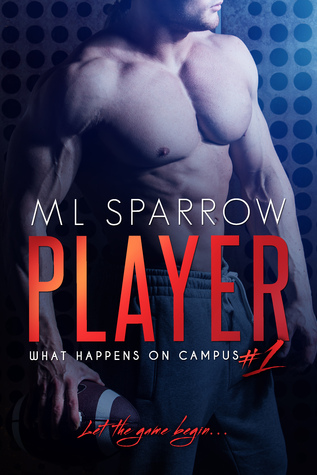 Publication Date:
September 1st, 2016
Publisher:
M. L. Sparrow

Let the game begin…
After a tragic accident which leaves her tormented by guilt, Chloe Newman accepts a scholarship to study a St. Joseph's University. Traveling from England to Texas, the last thing she expects is to meet the schools charming quarterback on her first night. However, Parker Mitchell is a player both on and off the field.
Parker is immediately fascinated by Chloe and, after a rocky start, they manage to find a way to make their relationship work despite interference from others on campus, including Parkers jealous ex, and the ghosts that haunt Chloe's conscience. But, the real test comes when they visit Parker's family over Christmas break and he finds himself being pulled back into their lifestyle…
Review:
*I was provided a copy by the author in exchange for an honest review
This book had everything for me to love it. We have a new adult sports romance and we all know how I feel about these books when it's well done. The book was not perfect but it was enjoyable. I think I would probably love it more if I didn't read as much new adult as I do because sometimes I would compare these characters and the story to some of my favorite new adult romances.
My main problem is that I didn't connect with the characters. I don't know why this happened but I had a hard time connecting with them. First we have Chloe. Chloe is this girl who loves books and that lacks some confidence. She went through something in her life that changed her and that at one point of the story made her have nightmares because she felt guilty about something. This is the kind of girl I wanted to connect with but she was missing something. I also think that her problem was solved way too easily. Parker was not as bad as Chloe. I kind of like him but he was an asshole in the beginning… which I loved because I kind of like when the guys start as assholes in books (but just in books okay). I really liked the relationship. They were cute and hot and I liked that there was no unnecessary drama. Things happened but nothing major that caused that much drama. I also liked how they tried to start as friends and how they tried to get to know each other.
I also really liked to get to know the side characters but I would love to know more about them and I really want to know what's happening to Riley because that girl is so lost… she just needs someone to help her. This means that I'm really excited for the next book because it's all about Riley :D.
The story itself was cool but sometimes it would look like nothing was happening. I did enjoy the writing style and the fact that it had a dual POV. With this being M.L. Sparrow first new adult romance I think she did an amazing job in this book and I plan on reading more of her books.
Overall, this was an enjoyable book. I did like the story and the writing style and I 100% plan on reading the next books in series because I really want to know what happens to the other characters.
Rating:
Have you read this book? If so, what did you think about it? If you haven't read it would you read it?