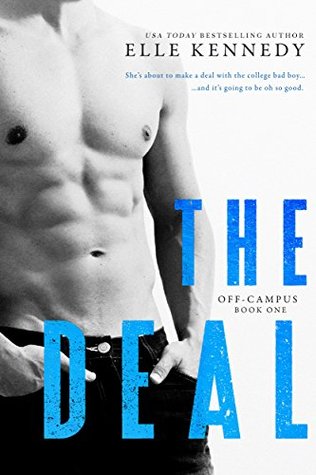 Publication Date:
February 24th, 2015
Publisher:
Elle Kennedy

She's about to make a deal with the college bad boy…
Hannah Wells has finally found someone who turns her on. But while she might be confident in every other area of her life, she's carting around a full set of baggage when it comes to sex and seduction. If she wants to get her crush's attention, she'll have to step out of her comfort zone and make him take notice…even if it means tutoring the annoying, childish, cocky captain of the hockey team in exchange for a pretend date.
…and it's going to be oh so good
All Garrett Graham has ever wanted is to play professional hockey after graduation, but his plummeting GPA is threatening everything he's worked so hard for. If helping a sarcastic brunette make another guy jealous will help him secure his position on the team, he's all for it. But when one unexpected kiss leads to the wildest sex of both their lives, it doesn't take long for Garrett to realize that pretend isn't going to cut it. Now he just has to convince Hannah that the man she wants looks a lot like him.
Review:
If you follow this blog you know I'm in a huge new adult kick. I've been reading mostly new adult since the beginning of the year so I was bound to finally read The Deal sometime because The Deal (and the whole Off-Campus series) is one of the most talked new adult books out there and one of the most loved too. It finally happened. I read The Deal and I'm in love with the world and the characters that Elle Kennedy created. Anyone surprised about that?? Not really, right? XD
I loved Garrett and Hannah. Those two were the best thing ever. I loved Hannah. She's one of that girls who isn't scared of telling what's on her mind even if she's talking sh*t about the college hockey star. She's also a pretty strong character even after everything that she went through when she was younger. She's just an amazing character. Garrett is just amazing. He's this cocky guy that is a really good guy deep down and he shows that when he starts spending more time with Hannah. He also didn't have the best childhood possible but that only helps him fighting for what he wants even more and I love it. I just love Garrett okay? XD I loved to see Hannah and Garrett together. I love the "enemies turned lovers" trope, especially when it's well done and it was definitely well done in this book. I loved how much Garrett had to work to make Hannah help him, I loved how they started being friends when they started spending more time together. I also loved that they only started a relationship after becoming friends and after they already knew each other pretty well. I loved how they helped each other with their problems. Basically I loved everything about these two and they were amazing characters.
This is not my first Elle Kennedy book but the previous ones that I've read (and loved) she was a co-writer so I loved to see her work when she's by herself. I really loved the writing style and how easily the story flew. I really had to make myself stop reading this book a few times. Not only this book flew super easily but it was also a funny read which helped a lot my reading experience. I found myself laughing and smiling more times than I normally do when reading and I loved it.
Overall, this was an amazing read. I still can't understand why it took me so long to start this series. I loved everything about this book and I can't wait to read the next books and know more about the other boys (actually I'm almost at the end of The Mistake so I already know Logan better and I love him). I could recommend this book to everyone who loves new adult but do I need to?? Because I'm pretty sure that by now everyone has either read this series or know that has to read it :D. Anyway, go read this book if haven't yet because it's such a great book.
Rating:
Have you read this book? If so, what did you think about it? If you haven't read it would you read it?