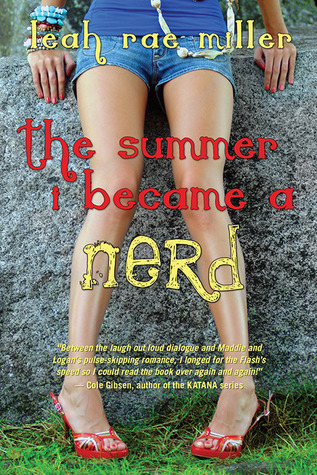 Publication Date:
May 7th, 2013
Publisher:
Entangled Teen

On the outside, seventeen-year-old Madelyne Summers looks like your typical blond cheerleader—perky, popular, and dating the star quarterback. But inside, Maddie spends more time agonizing over what will happen in the next issue of her favorite comic book than planning pep rallies with her squad. That she's a nerd hiding in a popular girl's body isn't just unknown, it's anti-known. And she needs to keep it that way.
Summer is the only time Maddie lets her real self out to play, but when she slips up and the adorkable guy behind the local comic shop's counter uncovers her secret, she's busted. Before she can shake a pom-pom, Maddie's whisked into Logan's world of comic conventions, live-action role-playing, and first-person-shooter video games. And she loves it. But the more she denies who she really is, the deeper her lies become…and the more she risks losing Logan forever.
Review:
*I was provided a copy by the publisher via NetGalley in exchange for an honest review
Once again this was a buddy read with Cristina @ My Tiny Obsessions so HERE to read her thoughts about this book :).
I've seen The Summer I Became a Nerd for quite a long time and this was a book I really wanted to read because it looked funny and full on nerdiness. After seeing that this book was available for request I had to request it because I couldn't miss the opportunity. I really enjoyed this book and I loved how light and funny it was. However, I still had few problems with it, mainly the main character Maddie.
I had a lot of problems with Maddie mainly because I didn't like the way she behaved. I understand that she was scared of losing her popularity just because she was a nerd but I hated the way she hid everything even from the people who loved her. I really didn't like that she would do everything to be popular, even dating a guy she didn't care about at all. I also hated the way she treated her best friend Terra. I'm pretty sure her best-friend if she had say to her since the beginning she didn't like her favorite singer. You don't have to like everything that the others do Maddie. She also did some dumb things that I knew from the beginning that would go wrong so I couldn't stop rolling my eyes. However, Maddie did grow on me and by the end I liked her. I loved how much she grew and how she realized that she should just be herself and be happy. Who I really liked was Logan. I loved Logan and I wouldn't mind to have met a Logan when I was younger. Logan was awesome and I loved how cute and nerd he was. I also loved his family. They were amazing. I also loved to see him and his best-friend Dan together. Those two were great when they were together and I wouldn't mind to read a book mainly about their friendship.
This book was told from Maddie's POV and while it flew super well I still had a few problems with it but it was mostly because I didn't like her (and she frustrated me at the beginning) and not because of the author's writing. I really enjoyed the writing in this book. I also loved how Leah Rae Miller included all the nerdiness. Let's just say that I had no idea that LARPing could be so intense XD.
Overall, this was a fun and fast-paced read. While I had a few problems with the main character I know that this was not a problem for most of the people who have read this book so I'll would definitely recommend this one.
Rating:
Have you read this book? If so, what did you think about it? If you haven't read it would you read it?