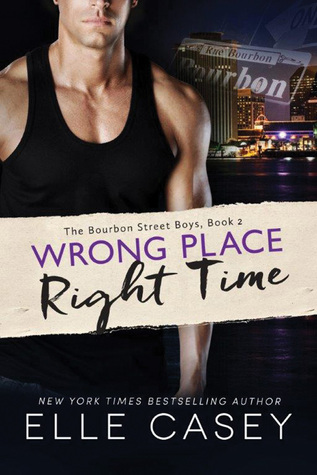 Publication Date:
 July 5th, 2016
Publisher:
Montlake Romance

Jenny's single-parent life revolves around her kids and her job, which means that hours of Animal Planet and strings of computer code are about all she has time for. Not that Jenny's looking for adventure or romance—she's the type of woman who believes in playing it safe.
When Jenny is called upon to do some consulting for the Bourbon Street Boys—a New Orleans private security firm—she knows she should stay away. They conduct surveillance on known criminals and put themselves in harm's way pretty much every day, so No is the obvious answer…Problem is, there's a guy on the team with a body to die for and a dimple that just won't quit luring Jenny in, tempting her to throw all caution to the wind.
Will Jenny take the risk or will she do what she's always done—play it safe and wait for the right time?
Review:
*I was provided a copy by the publisher via NetGalley in exchange for an honest review
Once again this was a buddy read with Cristina @ My Tiny Obsessions so click HERE to read her review :).
This was my first book by Elle Casey which means that I haven't read the first book in this series yet (but I want to).
This book was good. I enjoyed it. I liked the characters. I really liked Jenny and Dev. They were both great characters and I liked their chemistry. I liked that they both had kids and had different struggles from what I normally read. Sometimes I would get mad at Jenny because she made wrong assumptions about her younger sister's choices and I can see where that came from. She was only trying to protect her (not so) baby sister. Dev was awesome. I really liked him but I'm still not okay with his description. I'm sorry, normally I'm not into bald guys without eyebrows and that won't change anytime soon. I also really liked the side characters and that's one of the big reasons why I want to read the other books in this series. I also loved the kids in this book and I can't deal with how adorable Sammy was.
Being my first Elle Casey book I didn't know what to expect from the writing but I really liked it. I really enjoyed it and I loved all the funny moments that the author included. I would like to have known more about Dev. Because this book is told only from Jenny's perspective we only know the Dev she knows and I think there was so much more to know about him.
I only had one problem with this book but it's a major problem. Nothing happened. Plot-wise this book had nothing. In the beginning I thought something major would happen but nope… nothing. Some things happened but it was all too fast and in the last 15% of the book. I think that this book would have been way better if it had some kind of plot.
Overall, this was an enjoyable read. There were some things that could have been better but I still liked the story and I want to read the remaining books. If you like romances you should give this one a try.
Rating:
Have you read this book? If so, what did you think about it? If you haven't read it would you read it?