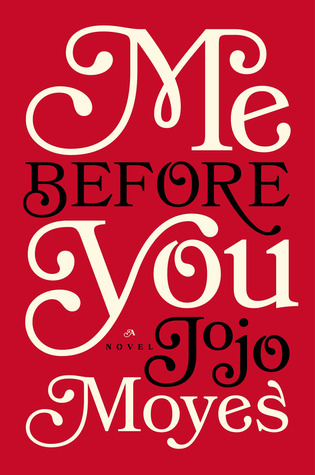 Publication Date:
January 5th, 2012
Publisher:
Penguin Books
Lou Clark knows lots of things. She knows how many footsteps there are between the bus stop and home. She knows she likes working in The Buttered Bun tea shop and she knows she might not love her boyfriend Patrick.
What Lou doesn't know is she's about to lose her job or that knowing what's coming is what keeps her sane.
Will Traynor knows his motorcycle accident took away his desire to live. He knows everything feels very small and rather joyless now and he knows exactly how he's going to put a stop to that.
What Will doesn't know is that Lou is about to burst into his world in a riot of colour. And neither of them knows they're going to change the other for all time.
Review:
This was a buddy with Cristina @ My Tiny Obsessions and Kat @ Life and Other Disasters and you can read their thoughts about this book HERE and HERE 😀 .
First of all let me tell you that I listened to an audiobook of this book instead of reading it which was kind of a new experience to me. This was not my first audiobook but it was my first fiction one and I loved the experience.
With the movie coming out soon (I know it's out in a lot of countries but this movie is only released here on August) and after watching the first trailer I really wanted to read this book. I'm going to be honest, I've heard of this book years ago but I only realized how much I wanted to read it after that amazing/heartbreaking trailer that almost made me cry.
I really loved Lou and Will. Lou was an amazing main character. I loved how different she is and I loved her development. Will was just Will. I really liked his character and how much he helped Lou growing up and seeing that she needed to do something else with her life. These two together were just great together and I loved to see their relationship develop over time. I didn't like the side characters at all. They were just so terrible to Lou (especially her family and boyfriend) and they were always putting her down. Actually I only really liked Nathan and by the end I kind of liked Lou's sister, Treena.
The book was told mostly from Lou's POV which I loved because she's different from all the MC's I'm used to but sometimes this book would have a few chapters from other characters POV's and I don't think that it was necessary at all to the book. It would have been better if it was all from Lou's POV or even if some chapters were from Will's POV.
I was expecting to cry a lot in this book but it didn't happen at all which makes me wonder if I'm an ice queen. No, I'm kidding. I was actually expecting something a little bit more emotional and heartbreaking but this book wasn't anything like that. Yeah it has an emotional storyline that makes you think about things but it was still kind of easy to read. I loved the message in this book and how important it was for Will to being able to making choices for himself. I know that the movie has been causing some sort of controversy because a lot of people think the movie "says" that quadriplegic people don't have any reasons live but I completely disagree with that. Having read this book I know that this is about Will being able to make some choices about his life, something he wasn't able to do since his accident.
Overall, this was a really good book that everyone should read. It wasn't as emotional as I thought it would be but I still loved the story and the overall message.
Rating:
Have you read this book? If so, what did you think about it? If you haven't read it would you read it?