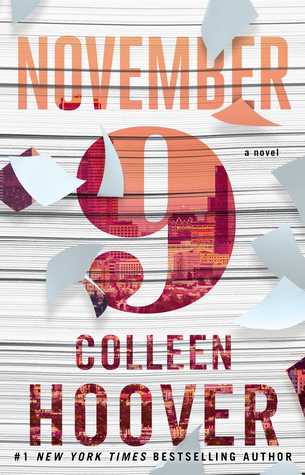 Publication Date:
November 10th, 2015
Publisher:
Atria Books

Beloved #1 New York Times bestselling author Colleen Hoover returns with an unforgettable love story between a writer and his unexpected muse.
Fallon meets Ben, an aspiring novelist, the day before her scheduled cross-country move. Their untimely attraction leads them to spend Fallon's last day in L.A. together, and her eventful life becomes the creative inspiration Ben has always sought for his novel. Over time and amidst the various relationships and tribulations of their own separate lives, they continue to meet on the same date every year. Until one day Fallon becomes unsure if Ben has been telling her the truth or fabricating a perfect reality for the sake of the ultimate plot twist.
Review:
One thing you should know about me is how much I love Colleen Hoover's books. I know these are some books that not everyone loves but I just love them with all my heart and let me just tell you that Colleen Hoover did it again. She wrote an amazing book and I loved it.
I went to this book not knowing a lot about it. I just knew that the story was told always on November 9 and I actually thought it was pretty similar to One Day (that I absolutely love) but I was wrong, it was different in a lot of ways. I was surprised right from the beginning because we learned something about the main character Fallon that I had no idea it would happen and to be honest, this keeps happening in a lot of her books. Colleen Hoover always has some kind of twist right in the beginning of the book that I never expect but I love it. Also, she loves to break my poor heart in some sort of way in her books but by now I'm really used to it.
I really like the characters in this book. I really liked Fallon and Ben and their relationship even if it was a little bit too instalove. I loved how much Ben helped Fallon and Fallon helped Ben through their issues. They were still too adorable and cute together. I kind of predicted the final plot twist right in the beginning of the book but it wasn't stop me from enjoying this book at all. However, it made me wonder a lot how the thing would be solved if I was right about what happened. I also really liked the side characters, especially Fallon's best friend but I was sad that they didn't appear more. Also, Miles and Tate from Ugly Love make an appearance in this book and I was so excited about that. When they first appeared I was like this: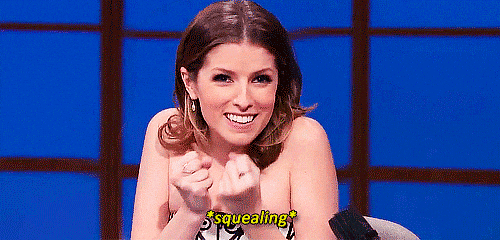 I loved the writing style and Colleen Hoover's writing style is something I'm already pretty used to love since I've read most of her books and I loved how she actually included some chapters from Ben's manuscript in the book. It was really well done. I still had a few problems with November 9 and it wasn't my favorite Colleen Hoover book (sorry, Slammed still holds that spot) but it wasn't something that affect my reading experience at all.
Overall, I really enjoyed November 9. Once again Colleen Hoover didn't disappoint so if you love this kind of books, or better, if you love Colleen Hoover's books what are you waiting to read this?
Rating:
Have you read this book? If so, what did you think about it? If you haven't read it would you read it?