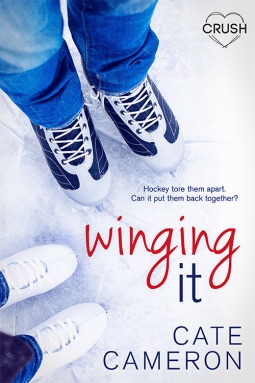 Publication Date:
May 16th, 2016
Publisher:
Entangled: Crush

Disclaimer: This Entangled Teen Crush book contains adult language, ice-melting kisses, and a swoon-worthy hero. This fake relationship romance will have you wishing for a hockey player of your own…
Natalie West and Toby Cooper were best friends growing up, on and off the ice. But when Toby's hockey career took off, their friendship was left behind. Now Natalie has a crazy plan to land her crush—Toby's biggest rival—and she needs Toby's help to pull it off.
When Nat asks Toby to be her fake boyfriend, he can't say no. Not when it means getting his best friend back. But Natalie is all grown up now, and spending time with her—even when it's just playing hockey together—stirs up a lot of feelings, old and new. Suddenly pretending to be interested in her isn't hard at all…if only she wanted him and not his enemy.
Hockey tore them apart. Can it put them back together?
Review:
*I was provided a copy by the publisher via NetGalley in exchange for an honest review
Once again this was a buddy read with Cristina @ My Tiny Obsessions so click HERE to read her thoughts about this book :).
Having read and loved book 2 from the Corrigan Falls Raiders series I was really excited to read this one so when I saw that was available to request I requested it right away. I'm happy I did it because this book was so cute.
I really liked the plot in this book where we have childhood best-friends who start a fake relationship. I love this kind of things but sometimes it can't get really frustrating. In this case it was frustrating sometimes but not too much. Natalie just wanted what she thought was right for her and while I would get mad at her sometimes I could understand her. We're talking about a 17 year-old and 17 year-olds are immature, make tons of mistakes and think that something is right for them when it's clearly not right. Nat looked like the teenager she was and that's something that sometimes is missing in young adult books because a lot of times the main characters look to growth-up. I loved Toby. He was cute and amazing and I want a boyfriend who doesn't freak out if I eat a whole pizza all by myself. I would be happy if I found someone like that. Also, he loved Pride and Prejudice so that's a bonus XD . I loved Nat and Toby's relationship and how much Toby helped Nat realize she should follow her dreams. These two were just too adorable. Another character I really liked was Dawn, Toby's ex. In the beginning I thought she would be a problem in Nat and Toby's relationship but I loved how she help them to realize how they felt about each other. I didn't like Scott, Toby's cousin and Nat's crush, and I just wanted Nat to realize that he didn't deserve her and that he was interested in her for all the wrong reasons but kudos for him when he was actually capable of being nice and helpful for a little bit. Good thing he's 5% sweetheart.
Once again, I really liked Cate Cameron's writing style and I loved that she included dual POV because for me dual POVs is something I love. Cate Cameron did it again and wrote a freaking adorable book. I should read book 1 now too. If it's anything like the last two books I know I'll love it.
Overall, this was an extremely cute and adorable read. If you love young adult contemporary that features best-friends and fake romances you should definitely give this one a try 🙂 .
Rating:
Have you read this book? If so, what did you think about it? If you haven't read it would you read it?