Today is thursday which means that is Book Traveling Thursdays, a weekly meme created by me and Danielle @ Danielle's Book Blog. This weekly meme consists in picking a book related to the weekly theme that is announced in the group Goodreads page (if you want to join click here) at the beginning of each month. After that you can write a blog post where you explain why you choose that book and choose different covers from different countries. To make it a little bit easy you are going to choose different editions of the original cover, the cover from your country, your favorite cover, and your least favorite cover.

This weeks theme is World's Laughter Day was a few days ago. Choose a book that makes you laugh. This week theme was actually pretty difficult to me because every book I would think about would only have one cover. I ended up finding a book that really made me laugh but this book only has two different covers so this is going to be a short post. The book I ended up choosing was You're Never Weird on the Internet (Almost) by Felicia Day. I actually listened to the audiobook and I loved it. So here are the covers I found for this book.
Original and Favorite Cover: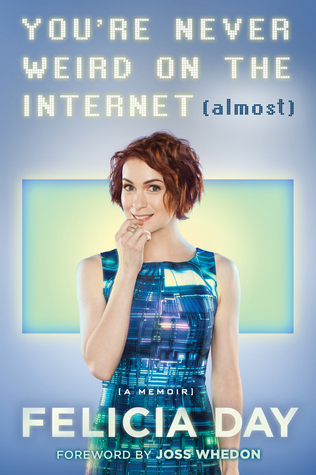 I really like this cover. Yes it is a memoir and you can see that because it has Felicia Day in the cover but I also really like the theme and the colors used in this cover. I think it fits with the book and Felicia's life.
Cover from my Country (Portugal):
This book has yet to be released in Portugal but I'm almost sure that if it is released here the cover will be pretty similar to the original one.
Least Favorite Cover:
I don't hate the cover from Czech Republic but I don't like it as much as the original cover. I think it could be more colorful and the picture they choose wasn't the best one. But the cover is not that bad.
So this is it, this week Book Traveling Thursdays. What did you think of these covers? Tell me in the comments 🙂