Publication Date:
March 8th, 2016
Publisher:
Simon & Schuster

The Shadowhunters of Los Angeles star in the first novel in Cassandra Clare's newest series, The Dark Artifices, a sequel to the internationally bestselling Mortal Instruments series. Lady Midnight is a Shadowhunters novel.
It's been five years since the events of City of Heavenly Fire that brought the Shadowhunters to the brink of oblivion. Emma Carstairs is no longer a child in mourning, but a young woman bent on discovering what killed her parents and avenging her losses.
Together with her parabatai Julian Blackthorn, Emma must learn to trust her head and her heart as she investigates a demonic plot that stretches across Los Angeles, from the Sunset Strip to the enchanted sea that pounds the beaches of Santa Monica. If only her heart didn't lead her in treacherous directions…
Making things even more complicated, Julian's brother Mark—who was captured by the faeries five years ago—has been returned as a bargaining chip. The faeries are desperate to find out who is murdering their kind—and they need the Shadowhunters' help to do it. But time works differently in faerie, so Mark has barely aged and doesn't recognize his family. Can he ever truly return to them? Will the faeries really allow it?
Glitz, glamours, and Shadowhunters abound in this heartrending opening to Cassandra Clare's Dark Artifices series.
Review:
I've read this book as a buddy with Cristina @ My Tiny Obsessions and Kat @ Life and Other Disasters and while this was not my first buddy read with Cristina (as you might have noticed in the past couple of months) it was my first buddy read with Kat which is really surprising that we took as so long to have a buddy read. You can read Kat's thoughts in Lady Midnight HERE and check Cristina's blog in the next few days to see what she thought about it 😀 .
First of all, let me tell you the struggle it was to finally get this book to me. I pre-ordered it a few weeks before the release date and I knew I wouldn't have it on March 8th (lucky americans that can get their pre-orders on release date) but I had to wait almost one month to finally get my copy. I was freaking out about it because I got the Lady Midnight on my hands a few hours before I left for holidays for two weeks. Good thing the book came and I was able to read it.
So Cassandra Clare did it again. She wrote an amazing book that brought me all the feels. I might have taken 20 days to read this book, which is a long time to read a book for me, but that doesn't change how I feel about it. I went to this book without knowing anything about it. The only thing I knew was that it was about Emma and Jules and that the parabatai bond would be important but that's it. I knew nothing else. Because of that I decided to talk about the 10 Reasons Why Lady Midnight is Freaking Amazing, because it is and everyone should read it:
1. It was funny and heartbreaking at the same time
This book has brought me all the feels. As I said it was funny but it was also heartbreaking, especially towards the end. I said this once and I'll say it again: Cassandra Clare wants to break our hearts in millions of tiny little pieces and she already did that in this book. My poor little heart couldn't resist to all the heartbreak.
2. It was different from the other Cassandra Clare series
I know a lot of people like to say that Cassandra Clare's series is always the same. Well, this one isn't. There's no more little girl who has no idea what the Shadowhunters world is and is thrown in this world because of what happened in her life. All the characters in this book have been a part of this world forever and they know everything about it. They no the laws and the consequences if they break any of them. They know how difficult it can be to have to follow those laws. They know all of that.
3. All the parabatai bond backstory was amazing
If you've read the previous series you know how important the parabatai bond is, especially if you've read The Infernal Devices because this bond is one of the most important things in that series. But it's so much more important in Lady Midnight. This book explains it so much better. Seeing Emma and Jules as parabatai and how that affects their lives is amazing and, once again, heartbreaking. This will be one of the main things in this series and I still can't understand how this will end up. I just know that it will probably break my heart a little bit more.
4. The characters are amazing and really well-developed
I can't even describe how amazing all the characters were. I loved the main characters, Jules and Emma but I also loved all the side characters, especially the Blackthorn siblings. And let's not forget about the past characters that make an appearance in this book.
5. The family aspect in this book is one of the best things ever
Talking about the Blackthorn siblings… I love every single one of them. I love how family is a really important part of who they are and how they support each other. It's amazing how much Jules cares about is younger siblings and how much he loves them. I already loved the Lightwood siblings but the Blackthorns might be on the top of my favorite bookish siblings list soon.
6. It features an amazing female friendship
You know how rare it is to have a female friendship in books?? Well, if you want a book with a really good female friendship you don't need to look more for it. Emma and Cristina have an amazing friendship. I love how much they help and support each other even when they haven't known each other for that long. I can't wait to see this friendship develop even more in the next books.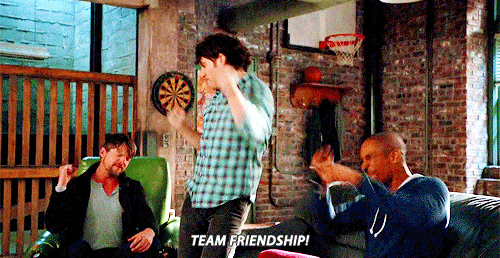 7. It has diverse characters
You know how diversity has become important in books in the past couple of years, right? Cassandra Clare already had a few diverse characters in her previous series but she kept adding more diverse characters and I love it and I especially love how these characters are accepted despite being different.
8. This book is full of twists
What were you expecting from a Cassandra Clare book? This book is full of twists and while I predicted a few twists most of them were still a surprise to me and I wasn't expecting most of those things to happen, which is great because who wants a predictable book?? No one!
9. We got to see old characters
As said before, we had a few visits from characters from other series and I loved it. Seeing some old characters was pretty amazing and I loved to be able to know what was going on with their lives. I loved even more the short story that was in the end of Lady Midnight the was called A Long Conversation because it was all about the characters from The Mortal Intruments and I missed them so it was great to know what they're up to.
10. The end destroyed me but it didn't change my love for this book at all
Ohhh that ending. WHY???? How am I supposed to wait one year to know what's going to happen after that?? I'm still not okay with that. The end of this book broke my heart and I need to know what it will happen next because I need to see my babies happy and right now I'm pretty sure most of them are not happy.
Bonus Reason:

This might be one of my favorite Cassandra Clare's books so far.
Rating:
Have you read this book? If so, what did you think about it? If you haven't read it would you read it?