Hi guys! I was going to write my Lady Midnight review today but I'm not ready yet so I'm back with another tag. I was tagged by Kat @ Life and Other Disasters to do the Get to Know Me Tag and this looks such a cool tag that I wanted to answer it today. Let's get to know me a little bit better 😛
---

Name: Cátia. If you want to know the meaning go read Kat's post because I'm pretty sure is the same XD
Nicknames: Catii. That's what my college friends call me. I also have a few embarrassing ones from when I was a kid but it's better if I don't talk about it 😛
Birthday: December 28th. Right in between Christmas and New Year.
Star Sign: Capricorn.
Occupation: Technically unemployed but being a bookworm and blogger is also a very valid occupation.
Hair color: Funny story, I always thought my hair was light brown but according to the hair dye brand I might have dark blonde hair. I don't know. My hair color confuses me. But it's mostly blonde in the summer.
Hair length: A little bit longer than the picture above. I'm trying to have a huge hair again.
Eye color: Blue, most of the times but if it's to cloudy outside it looks more grey than blue.
Best Feature: My eyes?? I think.
Piercings: Only the normal ear piercings.
Tattoos: None. I like the idea but I really don't like needles.
Right or Left: Left. If I was on a maze I would always go left. I'm also left-handed.
Best Friend: My first best friend was my neighbor and childhood best friend. He was only a few months older than me so we grew up together.
Award: Does a participation award for an Orchestra's meeting count??
Sport: Let me think… Watch TV and being on the internet XD . I don't do sports but I do watch tennis, figure skating and MotoGP.
Real Holiday: I normally spend my holidays home because it has a ton of beaches nearby (even if I don't go to the beach).
Concert: This is not my first concert but it's my favorite. Two years ago I went to music festival and two of my favorite bands, Imagine Dragons and The Lumineers, were playing on that day and it was awesome.
Film: Let's be all romantic and say Moulin Rouge. That movie is everything and it has the most amazing soundtrack ever.
TV Show: All of them?? The one I've been watching for a longer time is Supernatural. I can't stop loving that show. I also love Friends and How I Met Your Mother (if I forget the disaster that the last season was). Ans I can't forget about Masterchef Australia.
Color: Blue or pink.
Song: That's a difficult one. Right now (and for the past month) it has been War of Hearts by Ruelle. That song is not only amazing but it brings all the Malec feelings back.

Restaurant: Any restaurant that has burgers. I normally go to one called Farm that has amazing burgers. Also, anything that has amazing pizzas.
Shop: I can't say Barnes and Noble because there's no Barnes and Noble in Portugal so I'll say Fnac because it's where I buy books.
Books: Not answering. This is like having to choose my favorite child (which, by the way, I don't have).
Feeling: Happy 😀
Single or Taken: Single. It would be so much easier if book boyfriends were real.
Eating: Nothing. I had lunch just a couple of hours ago.
Thinking About: Which book will I read on my walk today. I'm also thinking that I need to send some curriculums later today.
Watching: Let me look to my TV… Castle is on tv right now but I'm not really watching it. The TV is only on for background noise (something that isn't necessary because I'm listening to some music).
Wearing: No judgement here okay?? I'm on my cat pajama pants and panda pajama top. Let's forget that fact that is almost 5pm and I'm still on my pajamas.
Want Children: Yeah. I want a boy and a girl. I'm pretty sure that's already a lot of work
Want to be Married: Maybe… I want to but I won't be sad if I don't get married.
Careers in Mind: If anyone works in a pharmaceutical company (preferably in the biopharmaceuticals purification area) I'm here if you want to hire me.
Where You Want To Live: Lisbon?? Or maybe London. I always wanted to live in London.
God: I don't know how to answer to this. I was raised to believe in God but look at everything bad that is happening in this world. It's pretty difficult to believe in God when stuff like this keeps happening.
Miracles: Yeah. I believe miracles might happen.
Love at First Sight: If you had asked me this when I was a dumb teen I would say yes but then I grew up and now I don't believe in it. You have to know the person before loving that person and that doesn't happen at first sight.
Ghosts: A little bit. But I prefer not to think about it.
Aliens: People need to understand that we're not alone in the universe. It's impossible that only one planet has life on it. It's a big universe. So yes, I believe that aliens exist.
Soul Mates: It might happen but I think that is not that common.
Heaven: I would like to think that it exists
Hell: I prefer to think that this one doesn't exist
Kissing on the First Date: If both people are okay with that and want, why not?
Yourself: Sometimes yes, sometimes no. It really depends on what's happening in my life and how I'm feeling about myself.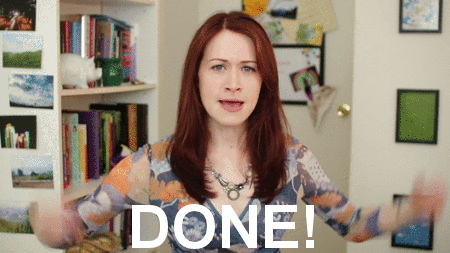 And this is the Get to Know Me Tag. I'm tagging everyone to do this tag because I want to know more a little more about all of you 😀 . If you want to know something else ask in the comments and I'll try to answer 🙂