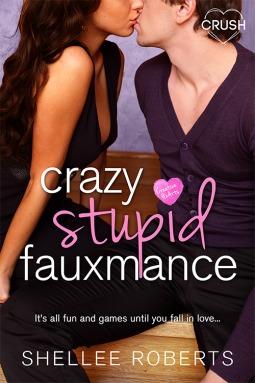 Publication Date:
April 18th, 2016
Publisher:
Entangled: Crush

Disclaimer: This Entangled Teen Crush book contains a kickass heroine, a boy so hot he'll make you shiver, and a falling-in-love story fit for the big screen. You'll want to settle in and have the popcorn ready.
After Mariely Hinojosa and Cabot Wheeler both break up with their significant others at the same party, Mariely sees a way to get even with both of their exes. Everyone knows that the best way to get over a breakup is a hookup—a fake hookup, that is. Three weeks, all fun, no strings, and definitely no heartbreak at the end.
But somewhere between the sweet hand-holding and melt-your-mind kisses, their fake relationship starts to feel less like an act and more like the real thing…but Mariely's a free-spirited girl from the other side of the tracks, and Cabot's the hot trust-fund guy from the Hills.
They'd never work for real…
Review:
*I was provided a copy by the publisher via NetGalley in exchange for an honest review
Once again, and by now you're tired of hearing this, I read this book as a buddy read with Cristina @ My Tiny Obsessions so you should click HERE to see her thoughts about this book :).
This book is the ultimate cuteness. I haven't read the previous two books in the series (but I want to now that I've read this one) so I didn't know what to expect but in the end it was better than I ever expected and I loved it. Well, I actually knew I would probably love it because I know Entangled: Crush can't go wrong with all these cute books.
I really enjoyed the characters in this book. I loved Mariely and I loved how she was. She didn't have an easy life but she knew what she wanted. Also, her style was amazing. I know she didn't dressed like that only because of fashion but I still loved it and I loved how unique she was. Cabot was, well Cabot was cute and I still can't understand why I couldn't find people like him when I was on high school. It's not fair. I really liked how their relationship developed. I think it was great that before they had feelings for each other they had some kind of friendship. It might have been a little bit fast but I liked to see them talking about things and becoming friends before they even thought about a relationship. I also liked some of the other characters a lot and now I need to read Willa's book because I want to know what happened (or didn't happen) between her and Finn. And am I the only one who's really excited to see Cabot and Finn's bromance?? I need to see those two together.
Another thing I really enjoyed and the writing and how this book had a dual POV. I really, really liked how the dual POV worked in this book. My only problem it's that I wouldn't mind a few more chapters in Cabot's POV.
Overall, this was a fun and easy read that everyone that loves young adult contemporary should read. I can't wait to read books 2 and 3 (even when I need to wait until Winter 2017 for book 2).
Rating:
Have you read this book? If so, what did you think about it? If you haven't read it would you read it?