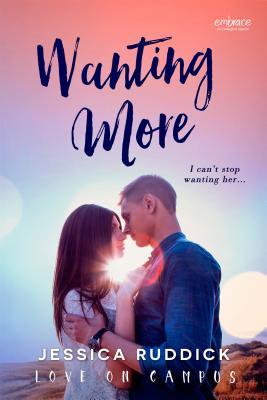 Publication Date:
March 28th, 2016
Publisher:
Entangled: Embrace

I can't stop wanting her…
Bri Welch likes to play it safe. I don't. She's wound tight, and I'm all about a good party. But there's something about her that makes me want to pull those uptight layers away one-by-delicious-one. But the worst thing is she makes me want more…
Review:
*I was provided a copy by the publisher via NetGalley in exchange for an honest review
By now this shouldn't come as a surprise but once again I read this book as a buddy read with Cristina @ My Tiny Obsessions so click HERE if you want to read her review :).
This is the first book by Jessica Ruddick that I've read but after this I'll want to read more of her books. I really enjoyed this books and the characters. Bri is a 22 year-old and knows what she wants to do with her life. In the other hand, Josh is a 21 year-old that has no idea what to do and that doesn't have the motivation to care about school. You can see that these two have everything to go wrong but when they meet they challenge each other to be better and I really like that factor in the story. These two were the cutest when they where together. Sometimes I would be sad when they thought that they weren't good for each other but most of the book was funny and most of the times I would be smiling like crazy. It was really good and funny read. There were some things happening in this book that really surprised me. I wasn't expecting some things to happen. I really enjoyed both main characters, especially Josh, but sometimes I would get a little bit frustrated with Bri and there was a situation in which I got mad at her. I could see why she was doing what she was doing but I couldn't understand her and that really got me mad. Good thing is that I only felt like that once and overall I did like Bri. I also really liked Josh group of friends and Bri's best friend. They were amazing and now I want to read the first book from this series because I want to know Cori and Luke's story. Another I really enjoyed was the writing and the fact that it had a dual POV. I'm a sucker for dual POV's so I was extremely happy when I started reading this book.
Overall, I really enjoyed this book. It was a great contemporary read so you're into contemporary you should give this one a try. As I said before, I can't wait to read more of Jessica Ruddick's books after reading this one. Maybe I'll get around to get Letting Go soon 😀
Rating:
Have you read this book? If so, what did you think about it? If you haven't read it would you read it?