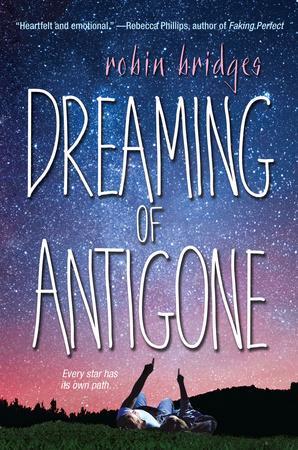 Publication Date:
March 29th, 2016
Publisher:
Kensington Books
Every star has its own path…
"I can't ever be the blazing star that Iris was. I'm still just a cold, dark satellite orbiting a star that went super nova."
Andria's twin sister, Iris, had adoring friends, a cool boyfriend, a wicked car, and a shelf full of soccer trophies. She had everything, in fact—including a drug problem. Six months after Iris's death, Andria is trying to keep her grades, her friends, and her family from falling apart. But stargazing and books aren't enough to ward off her guilt that she—the freak with the scary illness and all-black wardrobe—is still here when Iris isn't. And then there's Alex Hammond. The boy Andria blames for Iris's death. The boy she's unwittingly started swapping lines of poetry and secrets with, even as she tries to keep hating him.
Heartwrenching, smart, and bold, Dreaming of Antigone is a story about the jagged pieces that lie beneath the surface of the most seemingly perfect life…and how they can fit together to make something wholly unexpected.
Review:
*I was provided a copy by the publisher via NetGalley in exchange for an honest review
I've been very unlucky with the last couple of books I've read so I really wanted to like this one. Good thing that this one was not a disappointment and I really enjoyed it. But before I talk about this book can we look at this beautiful cover?? How gorgeous is that. I know I shouldn't be judging a book for its cover but I have to, okay??
This book was not what I was expecting but I really enjoyed it. It deals with a lot of heavy stuff and some stuff I wasn't expecting, at least not in the way that happened. I liked the main character Andria. She lost her twin sister 6 months ago and she's still trying to overcome that. She also has to deal with her seizures and not being able to be a normal teen girl. Luckily had a great support system in her two best friends and I really liked to see how they helped each other with grieving. In the beginning I might had a few problems with Trisha, Andria's twin sister best friend, because it looked like she was trying to make Andria the new Iris. I also really liked Alex and I liked to see him with Andria. I was a little bit worried about the dating the dead sister ex thing but in the end they were what each other needed to move on. I loved to see Andria's journey to recovery, trying to accept what happened to Iris and how she was able to do that with some help from her friends. This book also includes a lot of poetry and astronomy and I loved these aspects in the story and how they were included.
Overall, I really enjoyed this book and I hope to keep reading Robin Bridges's books especially now that I know that Natalie will have her own story. There were a few things that could have been explained better but in the end this was a really good book so I think that if you like these type of books you should give this one a try.
Rating:
Have you read this book? If so, what did you think about it? If you haven't read it would you read it?