Hi guys!!! Today I decided to do a type of post I haven't done for quite a while. Being a bookworm we all know that sometimes we read an amazing book, so amazing that you'll end up not wanting to read other books. Because of that today's post is A Bookworm's Guide to a Book Hangover. This is mainly how I react when I read a great book and I'm pretty sure that a lot of you might agree with some of these things.
---
Sometimes you read the most amazing book you have read in quite sometime
You feel like you belong to that book with that amazing characters
But then the book ends you end up like
You can stop thinking about how amazing the book and the characters are
You try to read a new book but you still can't stop thinking about that other book
You try yet another book but still nothing
This is the point you feel like crying because for you no other book will be as amazing as this one
You try to talk with someone else about the book so you can feel better
After talking about it you end up searching for some fan art and fan fiction  so you don't miss the characters as much as you already do
You finally decide to re-read a book you know you'll love
The book is so amazing that it takes you out from your book hangover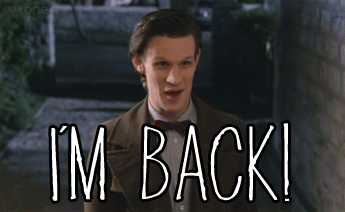 This is until you read another book that makes you feel this way. When this happens repeat all the previous steps
So this is my Bookworm's Guide to a Book Hangover. What about you?? Do you do any of these things? What other things do you normally do during a book hangover??