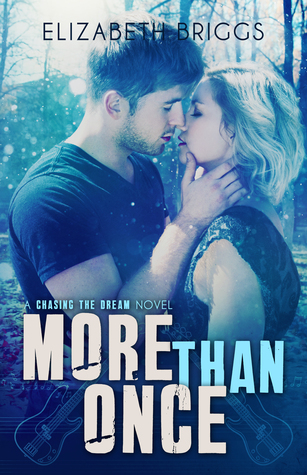 Publication Date:
December 1st 2015
Publisher:
Victory Editing
She's trying to be good. He loves it when she's bad.
Andrew West is done being the nice guy. After a marriage proposal gone wrong, he's started over in a new city and he's never risking his heart again.
Becca Collins is done being the bad girl. After quitting the band she played bass for, she's going to prove to her family that she's really changed.
When Becca's dumped by her boyfriend and fired from her job on Christmas Eve, all seems lost, until she runs into a former one night stand—Andrew. To impress her parents, Becca convinces him to pretend to be her perfect boyfriend for their holiday dinner.
After Andrew shows Becca he's all bad boy in the bedroom, neither wants to pretend anymore. But when Becca's invited to rejoin her band for a show and Andrew's forced to face his ex, they both wonder if they're ready to take a leap again—or if they're doomed to fail in life and love a second time.
Review:
*I was provided a eARC by the publisher via NetGalley in exchange for an honest review
Before I start this review let me tell you that if you don't feel comfortable reading some mature content or if you're too young this book is not for you.
This book is book 4 from the Chasing the Dreams series. Having read More than Exes and More than Comics (review here) I was really excited to read this book and I loved it.
This book is about Becca and Andrew. They actually meet in the end of More than Comics an end up having a one-night stand. When they meet they're both in a bad place in their life and lose contact with each other. The book starts 5 months later. Becca left her old ways that involved a lot of booze and bad decisions, leaving music behind, and moved back home to Dallas. Andrew also moved to Dallas where he got a job. They end up reconnecting and when Becca's boyfriend breaks up with her on Christmas Eve Andy decides to help her and pretends to be her boyfriend in front of her family mainly because her parents want her to get married and have kids. Andrew is still in a bad place after what happened in the end of More than Comics and thinks he's not ready for a relationship but everything changes when he starts spending more time with Becca. I loved how this book was the characters development and also self-acceptance. I also loved Becca's family, especially her twin sister, Trish. Sometimes I wouldn't like her parents but it was just because they were a little bit rough with her. The end was amazing and while I wasn't expecting what happened I should have seen that coming 😀 .
Overall, this was a great book. I loved Becca and Andrew and I loved to see more about them. Elizabeth Briggs is turning to be one of my to-go authors when I want to read new adult. If you like new adult romances you should definitely give this one a try.
Rating:
Have you read this book? If so, what did you think about it? If you haven't read it would you read it?