Hi guys! Today I decided to start doing some book recommendations and I'll try to do this often with different themes. Because it's my first book recommendations post I decided to talk about some of my favorite books. I have so many favorite books that I decided to split the post in two. For this week books I choose some well-known known books and also a few books that I normally don't hear people talking about. So let's start these recommendations.
The Perks of Being a Wallflower by Stephen Chbosky
"I walk around the school hallways and look at the people. I look at the teachers and wonder why they're here. Not in a mean way. In a curious way. It's like looking at all the students and wondering who's had their heart broken that day…or wondering who did the heart breaking and wondering why."

Charlie is a freshman. And while he's not the biggest geek in the school, he is by no means popular. Shy, introspective, intelligent beyond his years yet socially awkward, he is a wallflower, caught between trying to live his life and trying to run from it. Charlie is attempting to navigate his way through uncharted territory: the world of first dates and mixed tapes, family dramas and new friends; the world of sex, drugs, and The Rocky Horror Picture Show, when all one requires is that perfect song on that perfect drive to feel infinite. But Charlie can't stay on the sideline forever. Standing on the fringes of life offers a unique perspective. But there comes a time to see what it looks like from the dance floor.

The Perks of Being a Wallflower is a deeply affecting coming-of-age story that will spirit you back to those wild and poignant roller-coaster days known as growing up.
Okay… I know that this book is extremely well-know but I feel the need to recommend it to everyone who hasn't reading it yet. This book is just a beautiful coming-of-age story that deals with a lot of stuff. Also, the way that it's written, in a letter form, is just amazing. Another great thing is that this book is really short so you wouldn't take that long to read it.
---
The Night Circus by Erin Morgenstern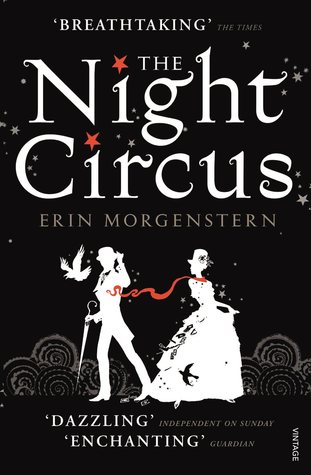 Goodreads:
The circus arrives without warning. No announcements precede it. It is simply there, when yesterday it was not. Within the black-and-white striped canvas tents is an utterly unique experience full of breathtaking amazements. It is called "Le Cirque des Reves," and it is only open at night.

But behind the scenes, a fierce competition is underway–a duel between two young magicians, Celia and Marco, who have been trained since childhood expressly for this purpose by their mercurial instructors. Unbeknownst to them, this is a game in which only one can be left standing, and the circus is but the stage for a remarkable battle of imagination and will. Despite themselves, however, Celia and Marco tumble headfirst into love – a deep, magical love that makes the lights flicker and the room grow warm whenever they so much as brush hands.

True love or not, the game must play out, and the fates of everyone involved, from the cast of extraordinary circus per-formers to the patrons, hang in the balance, suspended as precariously as the daring acrobats overhead.
This is another book that I'm pretty sure that everyone heard about but there I'm pretty sure that only a few people actually read it. This book is just amazing and so magical. I absolutely loved it and the way that the circus is described just makes you want to be there. This is just a great fantasy novel that everyone who loves historical fantasy should read.
---
My Heart and Other Black Holes by Jasmine Warga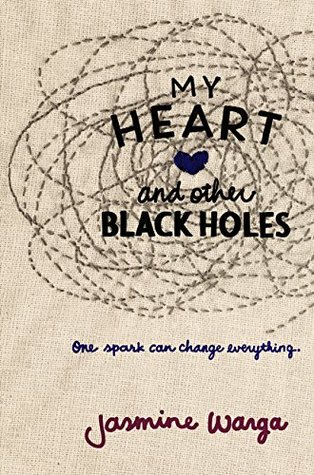 Goodreads:
Sixteen-year-old physics nerd Aysel is obsessed with plotting her own death. With a mother who can barely look at her without wincing, classmates who whisper behind her back, and a father whose violent crime rocked her small town, Aysel is ready to turn her potential energy into nothingness.

There's only one problem: she's not sure she has the courage to do it alone. But once she discovers a website with a section called Suicide Partners, Aysel's convinced she's found her solution: a teen boy with the username FrozenRobot (aka Roman) who's haunted by a family tragedy is looking for a partner.

Even though Aysel and Roman have nothing in common, they slowly start to fill in each other's broken lives. But as their suicide pact becomes more concrete, Aysel begins to question whether she really wants to go through with it. Ultimately, she must choose between wanting to die or trying to convince Roman to live so they can discover the potential of their energy together. Except that Roman may not be so easy to convince.
This is getting a little predictable because this is another novel that I talk a lot. If you don't know yet this is one of my favorite books that I've read this year and it's an amazing story that deals with depression and suicidal thoughts. I just loved to read this book and being able to read how Aysel real felt. The depression descriptions that Jasmine Warga used were so realistic and so heart breaking but this book is amazing. I loved everything about this book and I just want that more people read it 🙂 .
---
Meet Me Under the Ombu Tree by Santa Montefiore
Goodreads:
Sofia Solanas grows up on a magnificent ranch in the middle of the Argentine pampa, amid the grand traditions of the Argentine nobility and the mysticism of the native gauchos. Spoilt, wilful, resourceful and proud, Sofia is loved by all around her. All, that is, except her Irish mother, Anna, who punishes her daughter for her own sense of alienation and inadequacy while doting on her sons. Then Sofia embarks on a passionate love affair that can only bring shame upon the family. When Anna discovers the relationship, she is horrified and sends Sofia away to Europe, inadvertently exiling her from her family and the man she loves for over twenty years. And then a family tragedy calls Sofia home.

Following the story of the Solanas family in Argentina during the tumultuous years of political upheaval, and Sofia's life as an exile, Meet Me Under The Ombu Tree is a moving, evocative and unforgettable story of love and forgiveness from a brilliant new voice.

If you are inspired to visit Argentina and would like to stay on a farm like Santa Catalina and experience the Argentine way of life, please check out the links section for more information.
Because I already talked about some well-known books I decided that I also wanted to talk about some book that people don't usually talk about. Also, I know that I normally talk about Young-Adult novels but the next two are adult novels that I absolutelly loved. The first one is called Meet Me Under the Ombu Tree and I already talked about how much I love this book on Book Travelling Thrusdays (see it here). What I love about this book is that it follows the main character since she's a kid until she's about 40/50 years-old and I loved how it is possible to see how much her teenage years affected her adult life. This book is just beautiful and really makes you want to visit Argentina.
---
Garden Spells by Sarah Addison Allen
Goodreads:
The women of the Waverley family — whether they like it or not — are heirs to an unusual legacy, one that grows in a fenced plot behind their Queen Anne home on Pendland Street in Bascom, North Carolina. There, an apple tree bearing fruit of magical properties looms over a garden filled with herbs and edible flowers that possess the power to affect in curious ways anyone who eats them.

For nearly a decade, 34-year-old Claire Waverley, at peace with her family inheritance, has lived in the house alone, embracing the spirit of the grandmother who raised her, ruing her mother's unfortunate destiny and seemingly unconcerned about the fate of her rebellious sister, Sydney, who freed herself long ago from their small town's constraints. Using her grandmother's mystical culinary traditions, Claire has built a successful catering business — and a carefully controlled, utterly predictable life — upon the family's peculiar gift for making life-altering delicacies: lilac jelly to engender humility, for instance, or rose geranium wine to call up fond memories. Garden Spells reveals what happens when Sydney returns to Bascom with her young daughter, turning Claire's routine existence upside down. With Sydney's homecoming, the magic that the quiet caterer has measured into recipes to shape the thoughts and moods of others begins to influence Claire's own emotions in terrifying and delightful ways.

As the sisters reconnect and learn to support one another, each finds romance where she least expects it, while Sydney's child, Bay, discovers both the safe home she has longed for and her own surprising gifts. With the help of their elderly cousin Evanelle, endowed with her own uncanny skills, the Waverley women redeem the past, embrace the present, and take a joyful leap into the future.
This is another amazing book that I've read a few years ago. I love all of Sarah Addison Allen's books because they always have some kinda of magical element and the way that she includes it in her books is just wonderful. I really think that this a beautiful book that everyone who likes adult contemporary should read.
---
 So these are a few books that I want to recommend. Have you read any of these books or would you read any? Tell me in the comments 🙂 .