Hi guys! Today I'm bringing you The Nostalgic Book Review Tag. I've been seeing this tag around for a few months but I never did it until now for some reason.However, I was tagged by the lovely Michelle @ A HalfBlood Fangirl and since I was interested in it I'm doing it now 🙂 . Thank you so much Michelle for the tag.
The Nostalgic Book Review is a tag where you review a book you read at least three years ago entirely from memory. The review will be broken down into a summary where you summarise the book from memory, your thoughts on the book and an epilogue where you look up the book's summary and compare them to what you remembered.
Rules:
Please link back to Read Think Ponder's post, so that the original rules are always accessible to anyone who is curious and wants to participate!
Remember: do not look up your book when writing it's summary and thoughts.
Acknowledge the person who tagged you in your post.
Tag your friends and fellow bloggers – it's up to you how many!
I decided to choose The Luxe by Anna Godbersen mostly because i think that this book should be read by a lot more people. I read this book 6/7 years ago (I think) and it's a good book to do this tag.
Summary: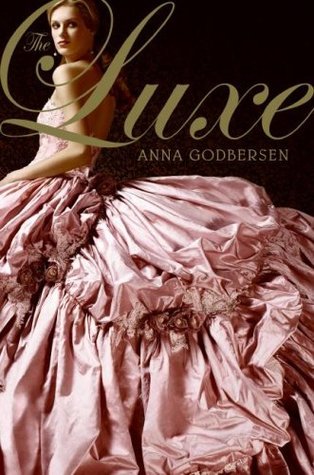 The Luxe is just like Gossip Girl in the end of the 19th century. The book is about the New York society but mainly
about two sisters, Elizabeth and Diana. In the beginning we find out that their father has lost all of his money before is death and the girls and their mother have to deal with the consequences of it. To solve this problem their mother forces Elizabeth to get engaged to Henry (the heir of one of the biggest fortunes in New York). even if she's in love with one of her employees/ childhood best friend. However, when Elizabeth tragically dies in a carriage accident everything changes and a lot of stuff happens.
I remember a lot more but because this is the first book from a series I prefer not to talk about it because there are a few things that I can't remember in which book happened and I don't want to spoil anyone 🙂 .
Thoughts:
I know that I really enjoyed this book. I had fun with all of the drama and I loved the characters. As I said before this book is a part of a series that I think that should have more hype. I'm pretty sure that I've only heard of one person who read it. I really liked all of the books (okay, I didn't like the last one that much). These books have been around for a long time but if you like things similar to historical Gossip Girl you should give this one a try.
Epilogue:
Goodreads Summary:
Pretty girls in pretty dresses, partying until dawn. Irresistible boys with mischievous smiles and dangerous intentions. White lies, dark secrets, and scandalous hookups. This is Manhattan, 1899.
Beautiful sisters Elizabeth and Diana Holland rule Manhattan's social scene. Or so it appears. When the girls discover their status among New York City's elite is far from secure, suddenly everyone–from the backstabbing socialite Penelope Hayes, to the debonair bachelor Henry Schoonmaker, to the spiteful maid Lina Broud–threatens Elizabeth's and Diana's golden future. With the fate of the Hollands resting on her shoulders, Elizabeth must choose between family duty and true love. But when her carriage overturns near the East River, the girl whose glittering life lit up the city's gossip pages is swallowed by the rough current. As all of New York grieves, some begin to wonder whether life at the top proved too much for this ethereal beauty, or if, perhaps, someone wanted to see Manhattan's most celebrated daughter disappear… In a world of luxury and deception, where appearance matters above everything and breaking the social code means running the risk of being ostracized forever, five teenagers lead dangerously scandalous lives. This thrilling trip to the age of innocence is anything but innocent.
I think that I had this one right even when I read this so long ago. Yeah, there are a few things that I haven't said because I thought that they were not important for this tag but I still got this one right.  It helps that this was one of my favorite books at that time 😀 .
For this one I will tag:
Cristina @ My Tiny Obsessions
Kat @ Life and Other Disasters 
Warisha at Warisha Reads
Valerie @ Little Dutch Bookshop
Michelle @ The Writing Hufflepuff
If I didn't tag you but you'd like to participate just tell me so I can see your choices 🙂