Today is thursday which means that is Book Traveling Thursdays, a weekly meme created by me and Danielle @ Danielle's Book Blog. This weekly meme consists in picking a book related to the weekly theme that is announced in the group Goodreads page (if you want to join click here) at the beginning of each month. After that you can write a blog post where you explain why you choose that book and choose different covers from different countries. To make it a little bit easy you are going to choose different editions of the original cover, the cover from your country, your favorite cover, and your least favorite cover. This week theme is Choose a Book with your Favorite OTP. I was going to choose The Infernal Devices because I love Will and Tessa but I did a Book Covers Around the World for this book a few months ago (you can see it here). I ended up choosing the Ignite Me by Tahereh Mafi instead because after Will and Tessa I love Warner and Juliette and Ignite Me was the best book for this OTP 😛 .
Original and Favorite Cover: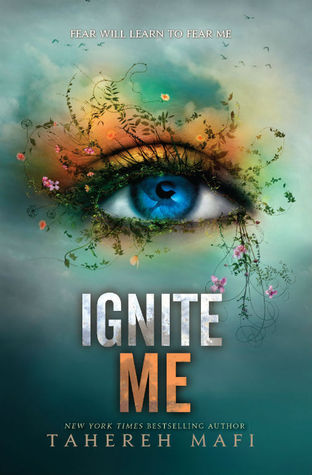 Let's just take a second to see how beautiful this cover is. Everything in this cover is right. I love the colors, the concept, everything. I normally don't like when publishers decide to change the book covers in the middle of the series but this is one of that cases that I absolutely agree with the change because I hated the original Shatter Me cover.
Cover from my Country (Portugal):
Once again this book wasn't released in Portugal yet (what are they waiting for??). The closest cover that I found was the brazilian one. I like this cover because is just like the original cover and I loved the design. I just hope that they decide to use these covers if this series ends up being published in Portugal.
Least Favorite Covers:
My big problem with the first cover (from Sweden) is that it doesn't reminds me of Ignite Me at all. For me this cover is for a YA mystery book. The second cover (France) is just weird and I don't like how dark it is. Then we have the turkish cover. I don't like it at all. I don't like people in covers and in this case is just terrible. Now let's talk about a really, really, really bad cover that is from Australia. I don't like any of these covers but the last one is just hideous. I would never read this amazing books if it had that cover. Everything is wrong in that cover and it looks so amateur. I just despise this cover.
So this is it, this week Book Traveling Thursdays. What did you think of these covers? Tell me in the comments 🙂 .