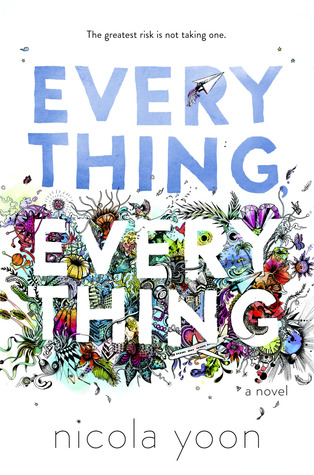 Publication Date:
September 1st 2015
Publisher:
Random House Children's
If you love Eleanor and Park, Hazel and Augustus, and Mia and Adam, you'll love the story of Maddy, a girl who's literally allergic to the outside world, and Olly, the boy who moves in next door . . . and becomes the greatest risk she's ever taken. This innovative and heartfelt debut novel unfolds via vignettes, diary entries, illustrations, and more.
My disease is as rare as it is famous. Basically, I'm allergic to the world. I don't leave my house, have not left my house in seventeen years. The only people I ever see are my mom and my nurse, Carla.
But then one day, a moving truck arrives next door. I look out my window, and I see him. He's tall, lean and wearing all black—black T-shirt, black jeans, black sneakers, and a black knit cap that covers his hair completely. He catches me looking and stares at me. I stare right back. His name is Olly.
Maybe we can't predict the future, but we can predict some things. For example, I am certainly going to fall in love with Olly. It's almost certainly going to be a disaster.
Review:
*ARC provided by NetGalley in exchange for an honest review*
I wanted to read this book since the moment I first heard about it and after reading some reviews I needed to read it even more. I f you haven't heard about this book (something that I doubt) basically it is about a 18 year-old girl, Madeline, that is allergic to the world and can't leave her house. Maddy lives a «normal» life and only has contact with her mom, her nurse  and confident Carla and some teachers that sometimes go to her house. This is until Olly's family moves in next door and changes her life. I loved the characters from this book and how they were described. They are normal people with flaws like everyone but even when it looked that someone was doing something wrongs you knew that they were doing for a reason. Maddy is a great character that tries to live her life as normal as she can but starts to feel that she wants more after meeting Olly. I also loved how Olly felt the need to protect Maddy and everyone around him especially after knowing what he was going through. The scenes between the two of them were so cute, funny and sweet that I could read a lot more pages of that. In the beginning it looks like it is an instalove thing but due to Maddy's situation and because it was so well written it was something that didn't bug me as much as normally would.
This book might seem short but the characters development is great and you can see the difference in the characters at the end of the book, especially Maddy. Not only that but I also loved how the chapters in this book were organized and how it wa filled with illustrations that were important for the story. The most important for me was how the end was left open to the reader's imagination and how amazingly this was done.
Overall, this was a beautifully well-written book and was one of my favorites of the year so far. I loved everything about it and anything I write about this book will not make any justice to it. You should definitely read this book. I look forward to read more books written by Nicola Yoon.
Rating:
Have you read this book? If so, what did you think about it? If you haven't read it would you read it?