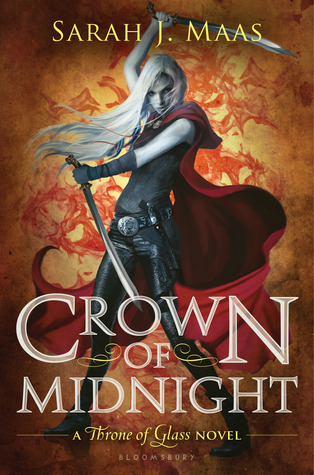 Publication Date:
August 27th 2013
Publisher:
Bloomsbury USA Children's
Goodreads Synopsis: 
"A line that should never be crossed is about to be breached.
It puts this entire castle in jeopardy—and the life of your friend."
From the throne of glass rules a king with a fist of iron and a soul as black as pitch. Assassin Celaena Sardothien won a brutal contest to become his Champion. Yet Celaena is far from loyal to the crown. She hides her secret vigilantly; she knows that the man she serves is bent on evil.
Keeping up the deadly charade becomes increasingly difficult when Celaena realizes she is not the only one seeking justice. As she tries to untangle the mysteries buried deep within the glass castle, her closest relationships suffer. It seems no one is above questioning her allegiances—not the Crown Prince Dorian; not Chaol, the Captain of the Guard; not even her best friend, Nehemia, a foreign princess with a rebel heart.
Then one terrible night, the secrets they have all been keeping lead to an unspeakable tragedy. As Celaena's world shatters, she will be forced to give up the very thing most precious to her and decide once and for all where her true loyalties lie… and whom she is ultimately willing to fight for.
Review:
After the amazing book that Throne of Glass was I was expecting a lot from this book and it was so good!! This series is becoming one of my favorites because it was everything. It's action packed, it has magic and a little bit of romance. Sarah J. Maas was able to create an amazing fantasy world and kept surprising us in this book. First of all, if I thought that Celeana was a badass in the first book in this one she exceeded the expectations. Seeing her in action was amazing even though sometimes she would scare me a little bit. I also loved her relationships both with Chaol and Dorian. Their interactions were so cool. I still think that Chaol is the right person for her but I really like Dorian and I think that he is  the best friend that she needs right now (especially after what happened in the middle of this book). However, I understand that Celeana is in a stage of her life where she is better alone (a let's be real, she is a strong, independent woman =) ). One thing I'm not liking is how Chaol and Dorian's friendship is falling apart. The two grew up together and have been best friends for years. Seeing their strained friendship is making me sad. Also, I'm pretty sure that after what Chaol did in the end of the book their friendship will be in a much worse place. This book had an amazing plot and I loved the twist that occurred during it. Well, I didn't like what happened half-way through the book to one of the characters but it was what Celeana needed to keep her journey even thought it was a sad and heart-breaking scene that changed the course of the book. I'm also loving Sarah J. Maas writing style and especially how she describes every single scene.
Overall, this was an amazing book. So amazing that I'm pretty sure that any review will not live up for this book. If you love fantasy books you should read the Throne of Glass series. You will not regret it.
Rating:
Have you read this book? If so, what did you think about it?