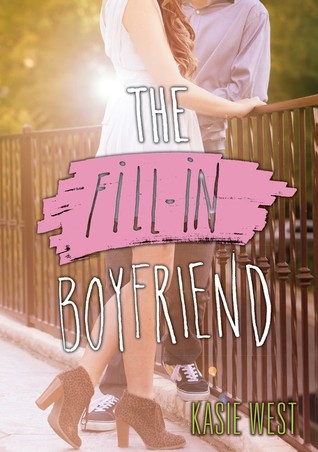 Publication Date:
May 5th 2015
Publisher:
HarperTeen
Goodreads Synopsis: 
When Gia Montgomery's boyfriend, Bradley, dumps her in the parking lot of her high school prom, she has to think fast. After all, she'd been telling her friends about him for months now. This was supposed to be the night she proved he existed. So when she sees a cute guy waiting to pick up his sister, she enlists his help. The task is simple: be her fill-in boyfriend—two hours, zero commitment, a few white lies. After that, she can win back the real Bradley.
The problem is that days after prom, it's not the real Bradley she's thinking about, but the stand-in. The one whose name she doesn't even know. But tracking him down doesn't mean they're done faking a relationship. Gia owes him a favor and his sister intends to see that he collects: his ex-girlfriend's graduation party—three hours, zero commitment, a few white lies.
Just when Gia begins to wonder if she could turn her fake boyfriend into a real one, Bradley comes waltzing back into her life, exposing her lie, and threatening to destroy her friendships and her new-found relationship.
Review:
This book was one of that books I was excited to read this summer. I've read The Distance Between You by the same author a few months ago during a reading slump and I decided to do the same last week. This book didn't disappoint me. I read it in 4 hours and at the end I had the biggest smile on my face. The book starts in prom night when the main character, Gia, boyfriend breaks up with her right in front of school. After that she sees a guy sitting in the car and asks him to be the fill-in boyfriend so that her friends do think that she was lying. At the start I didn't Gia at all. She was a shallow girl who only cared about other people would think about her and you could see that in the first pages. But it was possible to see her development through the book and how she discovered herself. I loved the Fill-In Bradley and his sister Bec and their relationship as siblings. The Fill-In Bradley also had his problems but I liked how his story ended. The way that Gia and the Fill-In Bradley's relationship developed was pretty cute. But let's talk about Gia's friends. Really? You're best friend of years never lied to you but you still believe another girl who you've known for less time that the boyfriend might be fake?? If my friends did it they would not be my friends for that long. But well if that didn't happened there was no book. I was sad about the way the book ended. I just wanted a little bit more but I really liked this book.
Overall, this was a super cute and cheesy contemporary book that makes you smile the whole time you're reading and the few hours after. If you like these kind of books you should read it.
Rating:
Have you read this book? If so, what did you think about it?