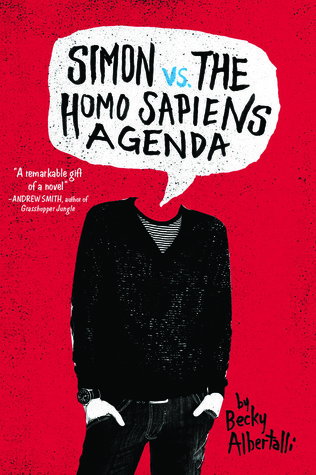 Publication Date:
April 7th 2015
Publisher:
Balzer + Bray
Goodreads Synopsis: 
Sixteen-year-old and not-so-openly gay Simon Spier prefers to save his drama for the school musical. But when an email falls into the wrong hands, his secret is at risk of being thrust into the spotlight. Now Simon is actually being blackmailed: if he doesn't play wingman for class clown Martin, his sexual identity will become everyone's business. Worse, the privacy of Blue, the pen name of the boy he's been emailing, will be compromised.
With some messy dynamics emerging in his once tight-knit group of friends, and his email correspondence with Blue growing more flirtatious every day, Simon's junior year has suddenly gotten all kinds of complicated. Now, change-averse Simon has to find a way to step out of his comfort zone before he's pushed out—without alienating his friends, compromising himself, or fumbling a shot at happiness with the most confusing, adorable guy he's never met.
Review:
I went on reading this book a little it afraid mainly because everyone loved this book and raved it so much that I was afraid that it wouldn't live my expectations. Luckily this was an amazing book and I wasn't disappointed.
Let's start from the beginning. Simon is a pretty normal teenager who has a secret, he is gay. However, right in the beginning of the book we learn that someone found out about his secret and starts to blackmailing him. Only by knowing this you know that this is going to be a great book. I loved Simon and how is struggles were shown. And let's not even talk about is conversations with Blue, they were so cute that I couldn't handle it. Talking about Blue, for a second I figured out who he was but then I thought that I was completely wrong so it was pretty much a surprise for me knowing who he was. I also loved the plot, all of the characters and their interactions (even Martin, not as much as everyone else but yeah). Not only the book was amazing but it was also amazingly well written and Becky Albertalli made a pretty good job on writing it.
So yes, you should totally read this book. This book was cute, funny and adorable and will put you in a great mood. I'm also excited to read more from the author.
Rating:
Have you read this book? If so, what did you think about it?