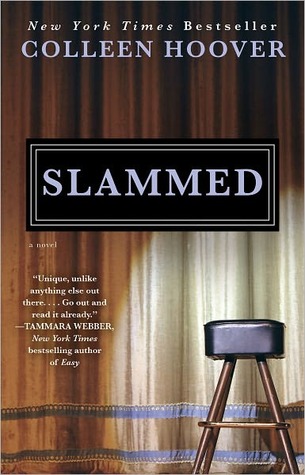 Publication Date:
January 4th 2012
Publisher:
Simon & Schuster
Goodreads Synopsis: 
Following the unexpected death of her father, 18-year-old Layken is forced to be the rock for both her mother and younger brother. Outwardly, she appears resilient and tenacious, but inwardly, she's losing hope.
Enter Will Cooper: The attractive, 21-year-old new neighbor with an intriguing passion for slam poetry and a unique sense of humor. Within days of their introduction, Will and Layken form an intense emotional connection, leaving Layken with a renewed sense of hope.
Not long after an intense, heart-stopping first date, they are slammed to the core when a shocking revelation forces their new relationship to a sudden halt. Daily interactions become impossibly painful as they struggle to find a balance between the feelings that pull them together, and the secret that keeps them apart.
Review:
If you follow my blog you already know that I love Colleen Hoover. All of the books I've read written by her have been amazing so I had really high expectations for Slammed. While this was not my favorite Colleen Hoover book it was still really good. I was reading it and thinking what the hell is going to happen to end Lake and Will's relationship right in the beginning of the book. I wasn't expecting what happened mainly because of Will's age. I'm not going to give you details in what happened because I think it will be a better experience if you don't know it right away. This is a really beautiful book and the story is amazing. Sometimes I would get mad at Lake, the main character, only because she would be immature in some situations but I think it was important for her to be like this because it allowed to see her development and growth during the book. Once again I was heartbroken while reading a Colleen Hoover book mainly because of Lake and Will's past. They have both lose so much that it was heartbreaking. I also liked how Will's past helped Lake's struggles and how he was always trying to help her.
Another thing that was amazing in this book is the way the author used poetry in the story and how it was used to express the characters feeling. I think it's pretty cool how she is always able to use different arts in her books and I always love that aspect in Colleen Hoover's books.
So, if you love contemporary novels read this book. It's a beautifully well written story and maybe you will be like me and read it in one sitting (like I always do with Colleen Hoover's books).
Rating:
Have you read this book? If so, what did you think about it?