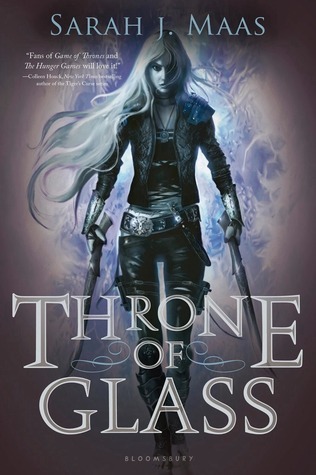 Publication Date:
August 2nd 2012
Publisher:
Bloomsbury USA Children's
Goodreads Synopsis: 
After serving out a year of hard labor in the salt mines of Endovier for her crimes, 18-year-old assassin Celaena Sardothien is dragged before the Crown Prince. Prince Dorian offers her freedom on one condition: she must act as his champion in a competition to find a new royal assassin. Her opponents are men-thieves and assassins and warriors from across the empire, each sponsored by a member of the king's council. If she beats her opponents in a series of eliminations, she'll serve the kingdom for three years and then be granted her freedom.
Celaena finds her training sessions with the captain of the guard, Westfall, challenging and exhilarating. But she's bored stiff by court life. Things get a little more interesting when the prince starts to show interest in her… but it's the gruff Captain Westfall who seems to understand her best.
Then one of the other contestants turns up dead… quickly followed by another.
Can Celaena figure out who the killer is before she becomes a victim? As the young assassin investigates, her search leads her to discover a greater destiny than she could possibly have imagined.
Review:
I know that this book has a lot of hype around it. Because of that I decided to wait to read it until I was in the right mood. That happened last week. Now I think to myself, what the hell did I had in my head to not start it sooner. This book was amazing. I loved everything in it, the characters, the plot, EVERYTHING. First of all, I normally don't like assassins, like everyone I think, but Celaena was such a strong character and such a badass that was impossible not to like her. Then we have the guys, Dorian and Chaol, and I also loved them but for now I'm team Chaol, I don't care. However this can change when I read the next books. It wouldn't be the first time that it would happen. Regarding the plot, I wasn't expecting that Sarah J. Maas inserted that magical element in the book. The only thing I knew about this b was that it was about an assassin competing to be the King's Champion but I was happily surprised and really liked that magic played such a big part in the book.
So yeah, I loved this book and I'm excited to read the remaining books. And if you like young-adult fantasy books please go read Throne of Glass, if you hadn't already. Don't wait as long as I did.
Rating:
Have you read this book? If so, what did you think about it?